One of the problems I have when cooking is…I make too much food! Usually the end result can feed a small army while other times there is too much mixture or sauce left. I think this is a Mediterranean habit, we are always scared that the food will not be enough for the family or guests.
One solution is to freeze the leftovers but I always forget them in the freezer. You see, I am always eager to cook something fresh. The other solution is to use them to cook something else.
I had some ground meat mixture left from the time I made my lovely boats. I though that a quick solution was to make some rolls with filo pastry and bake them. Of course, I added some extra ingredients for a special touch. What a great idea for dinner!
Ingredients (serves 4 people)
~ 250 gr (0.5 lb) of ready ground meat mixture.

4 cherry tomatoes chopped in small pieces.

100 gr (3.5 oz) of grated hard cheese (Manchego, extra mature Cheddar etc).

100 gr (3.5 oz) of grated mozzarella.

4 filo sheets.

½ cup of extra virgin olive oil.

Greaseproof paper.
Cut a piece of greaseproof paper that will cover the bottom of your baking tray. Place a filo sheet on the paper. Close to the top of the sheet, add some of the meat mixture, a few pieces of the chopped tomatoes and a some of your grated cheeses. Make sure you don't go too close to either edge.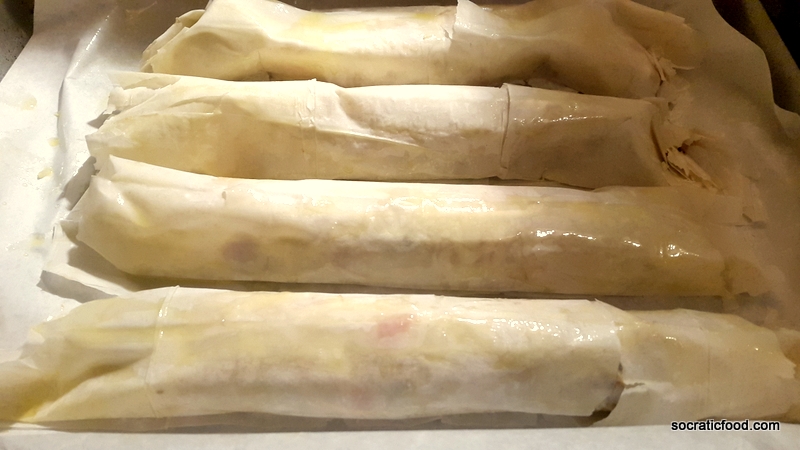 Using a kitchen brush, spread some olive oil on the rest of the filo sheet. Start folding the sheet to create the roll. When you are halfway though, fold the sides and finish rolling. That way the mixture will not escape from the ends.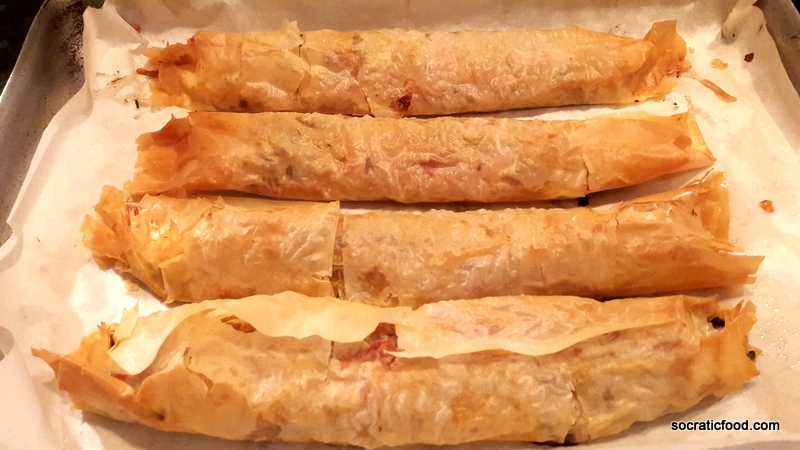 When you finish with the rest of the rolls, place the paper onto the baking tray and spread some olive oil on top of them with your brush. Cook them in a preheated oven at 180 degrees Celsius (350 F) for ~ 20 minutes until golden brown.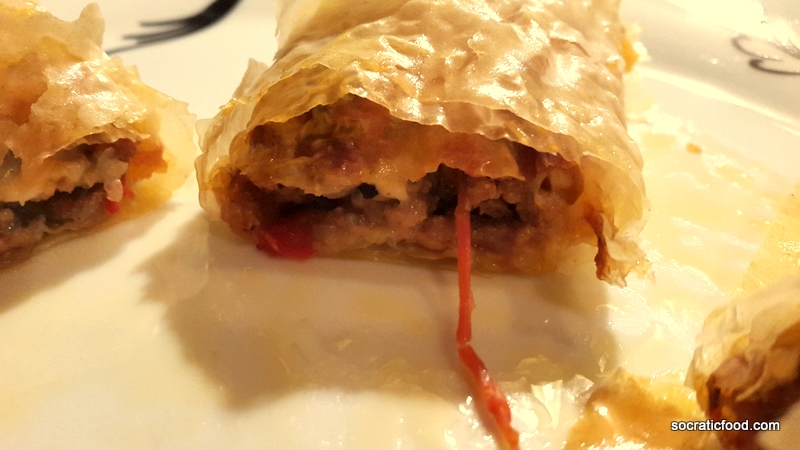 Serve them hot with some nice salad.
Bon appetit!
(Visited 174 times, 1 visits today)