What happened first? The egg did the chicken or vice versa? That's a deep philosophical question that has initiated big fights in social media. Or maybe not…who cares as long as we, food worshippers, can enjoy both of them in world-famous escalopes.
One would say "why bother making them, you can buy them cheaply in supermarkets". You would be right but there are two problems with ready-made breaded escalopes: 1) They are made from chicken breast and they are SO bland and dry. 2) The breaded coating cannot compete with your homemade flour-egg-breadcrumbs winning trio.
I have already expressed my preference in chicken thighs to breasts, as they are much tastier and more tender. Go on then, be adventurous and have a dreamy escalope in less than 30 minutes. The mozzarella and mushroom topping in the oven is optional, you can really enjoy them straight out of the pan with squeezed lemon on top.
Ingredients (serves 2-3)
500 gr (~ 1lb) skinless chicken thighs.

2 eggs.

½ cup of all-purpose flour.

½ cup of breadcrumbs.

2 big and sweet tomatoes sliced.

100 gr (0.2 lb) big mushrooms (Forestiere) sliced.

2 big balls of fresh mozzarella (Di Bufala if possible).

Sunflower oil for frying.

Paprika.

Salt and ground pepper.
Place the chicken thighs on a large surface and cover them with cling film. Use something heavy, like a sauce pan or a rolling pin and hit the thighs a few times so they become tender and thin.
Whisk the eggs in a bowl together with 1 teaspoon of paprika, salt and pepper to taste.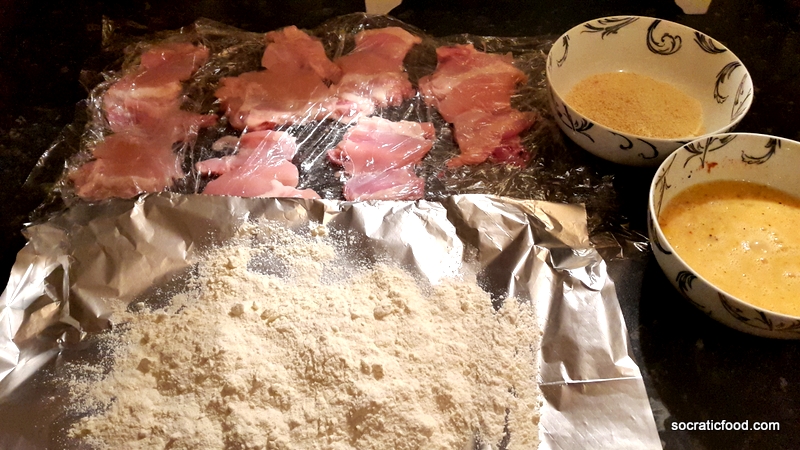 In a large frying pan, heat up ½ a cup (may be more) of sunflower oil in medium-to-high heat. Coat both sides of a chicken thigh with flour, bathe it well into the egg mixture, roll it into the the bowl with breadcrumbs and start frying it until golden brown on both sides. When finished, place them on a plate with kitchen towel to absorb the excess oil.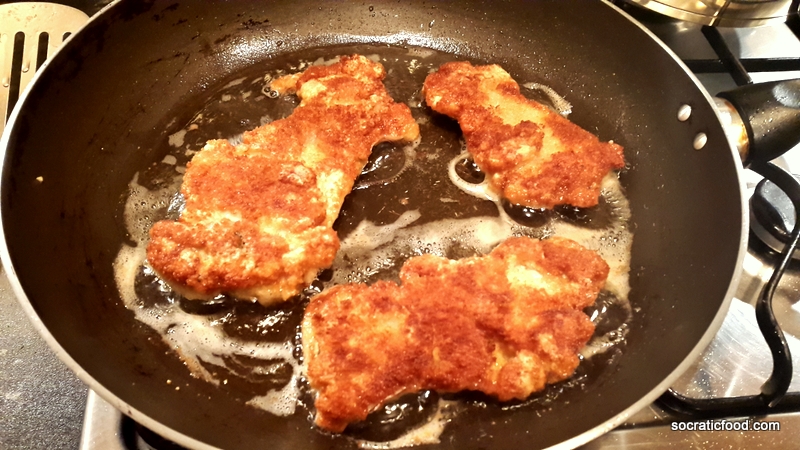 Cover a tray with greaseproof paper and place the escalopes. On top of each one add 1 slice of tomato, slices of mushrooms and top it generously with mozzarella. Cook it in a pre-heated oven at 190 degrees Celsius ( 370 F) for ~15 minutes.
Serve the escalopes hot with some salad or homemade chips.
Bon appetit!
(Visited 1,445 times, 1 visits today)