Yummy meaty boats. It is a feast but I have to admit it's not an easy recipe. I wouldn't care less buying ready-made bases from the supermarket but I prefer to make my own dough. So I can only blame myself for the result.
The idea comes from Turkish cuisine and the dish is called "Kıymalı Pide" and actually means minced meat on a flat bread. Excellent idea, everyone loves meat and bread! Or not…at least I do. My friend who is a Personal Trainer will not like this. What does he know…he only eats broccoli.
The choice of meat is yours. You can play safely and use beef. Or do as the Turks would do and use lamb. I prefer a mixture, veal and lamb to get the soft meaty taste from veal and the kick from the lamb.
Cheese lovers should not be ashamed! Try and use some shredded cheese of your choice and take it to another dimension. Your palate will love it, your doctor may not. But who cares about doctors…what do they know?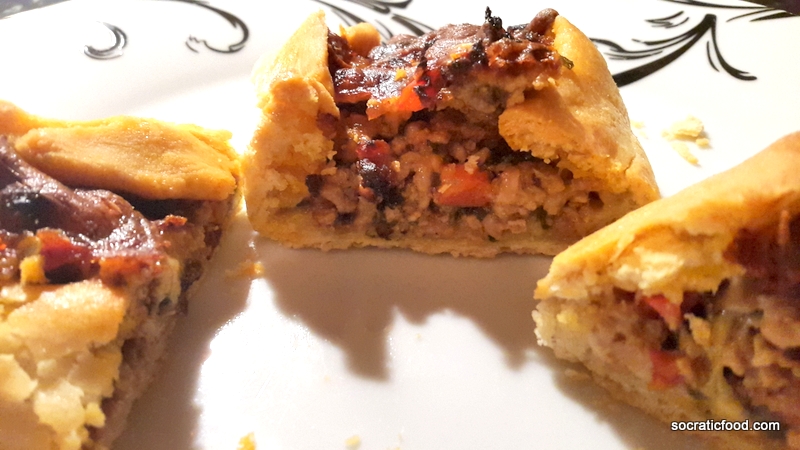 Ingredients (5-6 boats)
500 gr (1.1 lb) mixed ground meat (veal and lamb).

1 onion chopped.

1 green pepper chopped.

1 red pepper chopped.

4-5 garlic cloves squeezed or finely chopped.

3-4 juicy and sweet tomatoes.

1 generous bunch of flat-leaf parsley.

1 tablespoon of tomato paste.

½ teaspoon of cumin.

A pinch of nutmeg.

1 tablespoon of dried oregano.

1 tablespoon paprika.

½ cup of extra virgin olive oil.

Salt and ground pepper.

1 egg.
For the dough:
500 gr (1.1 lb) plain flour.

1/3 cup of extra virgin olive oil.

20 gr ( < 1 oz) of dried yeast.

1 tablespoon of salt.
In a small bowl, add the yeast and ½ cup of warm water, stir and let it rest for a few minutes. In a much larger bowl add the flour, ½ cup of warm water, the olive oil and the salt.
It's time to make your hands dirty and create a mess (or not!): use your hands and knead the dough until it becomes a homogeneous and elastic mixture. You may need to add some more flour if it is still sticky. Place the dough covered in a warm place and let it rise. That will take about an hour.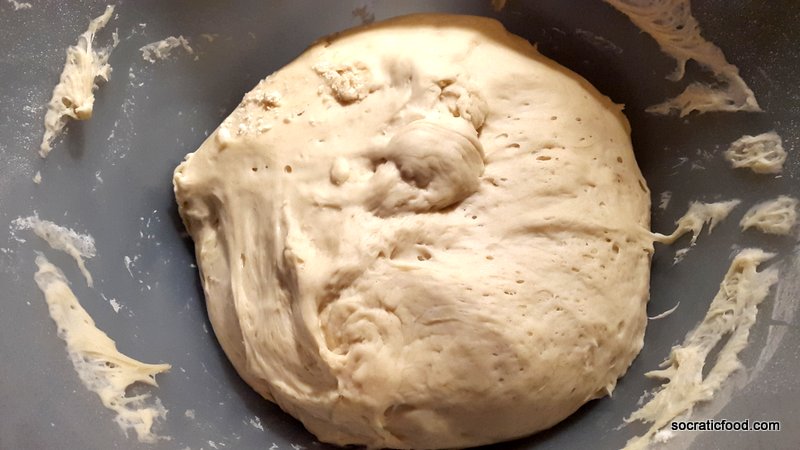 In medium heat, warm up the olive oil in a large frying pan and add the onion and peppers. Fry the gently until they get soft, add the garlic and stir well. In a couple of minutes add the ground meat, the spices and oregano and let it cook until it is nicely brown and all the juices have reduced. Add salt and pepper to taste.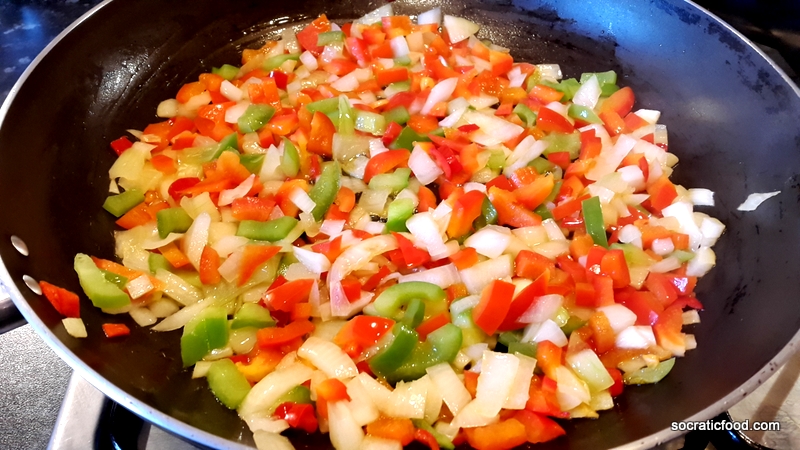 Add the tomatoes and half of your parsley in a blender and prepare the tomato mixture. Add it in the pan together with the tomato paste and ½ cup of hot water. Stir well and let the sauce cook in low to medium heat.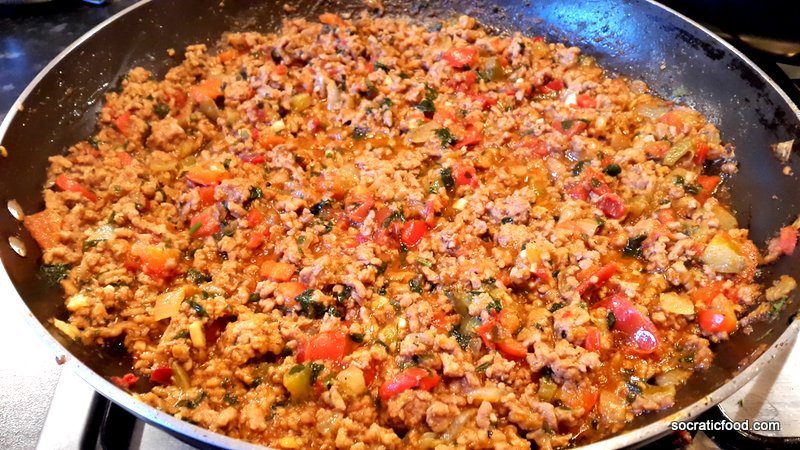 Cut a piece of greaseproof paper that will fit your baking tray. Spread some olive oil with a kitchen brush.
Get a small piece of your dough (that will fill your hand) and use your fist first and your fingers to create a thin base of elliptical shape (physics talking now…). Place the dough base on the oiled paper and add the meat mixture in the middle. If you like, just for a bonus, you can add some shredded cheese of your choice, underneath or on top of the meaty mixture.
Careful! The mixture should be cold when you add it on the dough!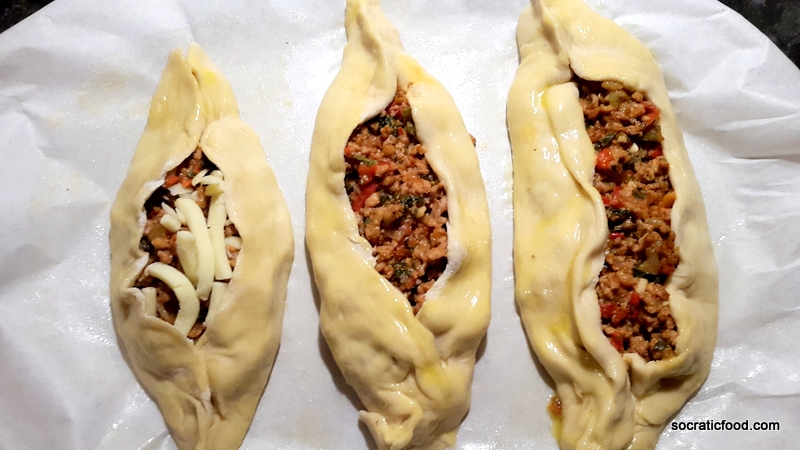 Fold the base and create a boat, as it's shown in the photos. When you are ready, place the paper with your boats in the tray. In a small cup, add one egg and some olive oil, whisk it and spread it on top of the boats with your brush.
Cook them in a preheated oven at 180 degrees Celsius (350 F) for ~ 20 minutes until golden brown. Check it regularly to make sure that your dough does not turn into biscuit!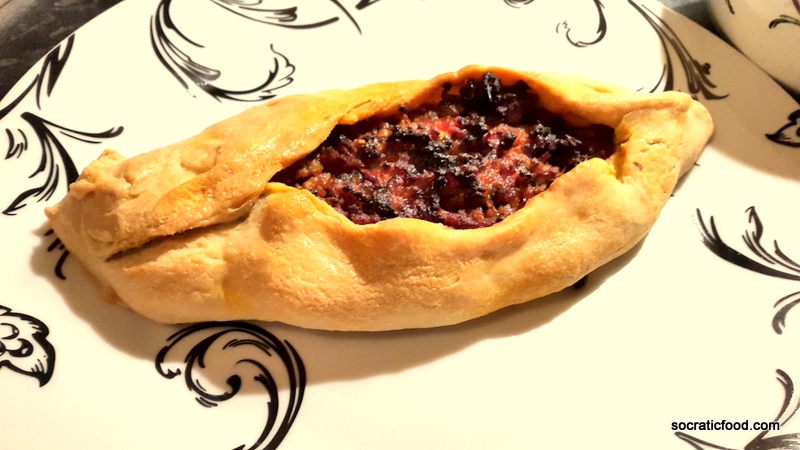 Serve them hot with chopped parsley and some onion-based salad.
Bon appetit!
(Visited 265 times, 1 visits today)