Sometimes you need to prepare a nice meal and you haven't planned anything. You are expecting friends to come or simply you don't want to eat another sandwich and go to bed. Your only solution is to check what is in the fridge and do something with it.
A few years ago it was one of these evenings for me and I made a meal that actually became one of my all-time favourites. I had some chicken thighs and used almost every vegetable that was left in the fridge. The lemon and mustard take the dish to another dimension and the sauce is where a nice piece of bread wants to land. I always got chicken thighs in the fridge, you can cook them in so many ways and they are much much tastier than breast fillets.
It's a relatively easy and fast meal to prepare. I like to serve it with basmati rice but it would go perfectly with home-made chips. I even cooked it in a dinner date (it was our third date) and she was very impressed!
Ingredients (serves 2-3 people)
6 skinless chicken thigh fillets

200 gr (7 oz) of lardons, pancetta or slice bacon.

2 red peppers chopped in medium pieces.

1 chopped courgette.

1 chili pepper finely sliced.

200 gr (7 oz) of mushrooms.

A bunch of spring onions.

1 red onion sliced.

2-3 garlic cloves finely chopped.

2 juicy lemons.

2 teaspoons Dijon mustard.

1 table spoon of dried oregano.

1 table spoon of grated parmesan cheese.

1 teaspoon of paprika.

Salt and ground pepper.

½ cup of extra virgin olive oil.
Cut the chicken thighs in small pieces, 5-6 pieces each thigh. I like to prepare all ingredients so I am ready for the cooking. Cut the onion, the peppers, spring onions and the chili pepper. Slice the mushrooms and the courgette in thick pieces. At the end, finely-chop the garlic.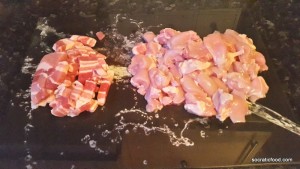 In a large frying pan pour the olive oil and start frying the chicken in medium heat. Add the oregano, paprika, salt and pepper. Careful with the salt, adding the parmesan at the end will also give a salty taste. When the chicken pieces start getting golden on every side, add the lardons and the garlic and give it a couple of minutes so they start cooking too.
It's time for the vegetables now: add all of them to the pan and use a wooden spoon to toss all of the ingredients. Do not worry if your frying pan looks full, your meal will "sit" when the vegetables get cooked. That will take ~ 10 minutes and you have to stir all the ingredients from time to time so they don't get burned. When ready, the vegetables will be soft and it's time for the last part of the recipe, which is my favourite!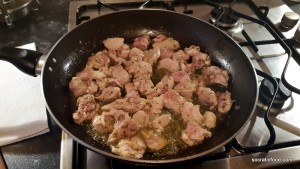 Squeeze two lemons, put the lemon juice in a cup (without the pips!) and add the mustard. You may add some water or white wine to fill the cup. Stir the mixture until it smoothens. Pour it in the frying pan and reduce the heat to low. Let it cook until all the water (or alcohol if you have used wine) has evaporated and your sauce is nice and oily. To thicken up the sauce and add the extra dimension to the plate, add the parmesan and stir it. Your meal is done!
I like to serve this dish with basmati rice. If you feel adventurous, serve it as it is by bringing the frying pan to the table and let you friends or family serve directly from there. Don't forget to dip in your bread…an unhealthy but delicious habit!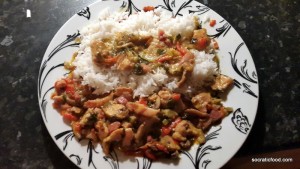 Bon appetit!
(Visited 403 times, 1 visits today)