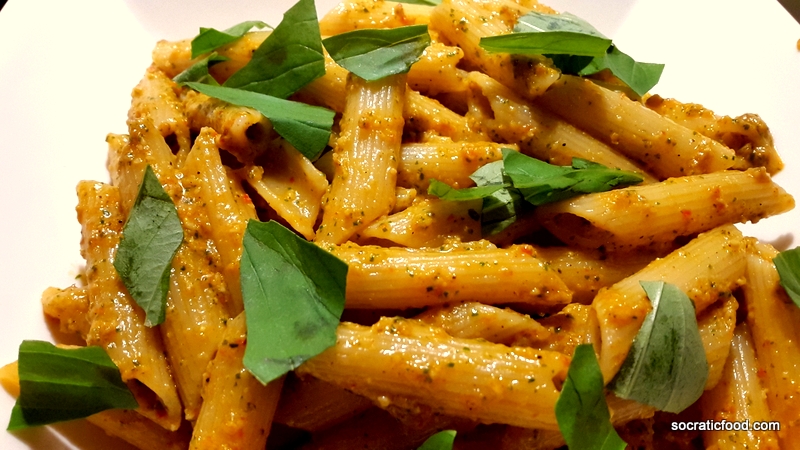 An alternative version of the classic pesto recipe! We all (at least I do) love the classic garlicky green pesto sauce with basil and pine nuts. But the introduction of roasted red peppers give it a very pleasant and particular kick.
In this version, I had only 2 red peppers and I think it was not enough for 1 box of penne. I suggest you use at least 3 when you make it. The introduction of pasta water always gives that nice creamy result you expect.
Ingredients (serves 3 people)
500 gr (1 lb) penne pasta.

3 red bell pepper.

4 garlic cloves.

A handful of basil leafs.

~ ½ cup of extra-virgin olive oil.

A handful of pine nuts.

Salt and ground pepper.

Grated parmesan cheese.
Place the peppers on a tray covered by greaseproof paper and cook them in a preheated oven at 180 degrees Celsius (360 F) for around 20 minutes until they start getting brown. Let them cool down and peel the flesh. Cut them in pieces and remove the seeds.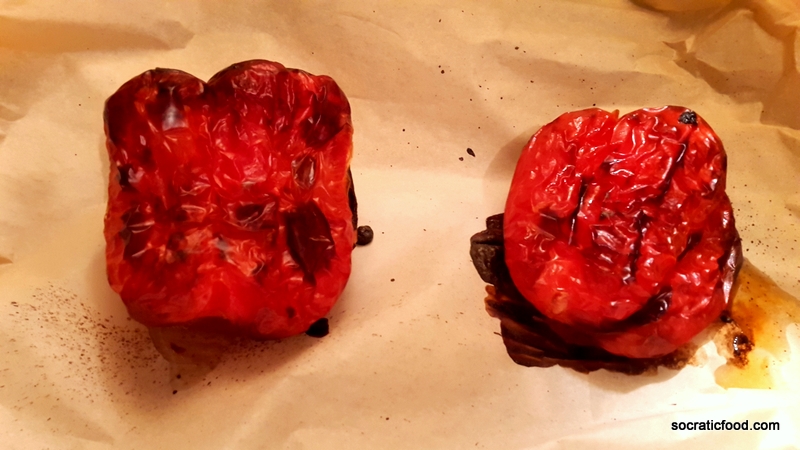 In medium heat, add 1 tablespoon of olive oil in a frying pan and fry the pine nuts for ~ 1 minute to become crunchy. To prepare the pesto add the peppers, garlic cloves, pine nuts, 2 tablespoons of parmesan, 1 teaspoon of ground pepper and 2 tablespoons of olive oil in a blender to make a nice paste.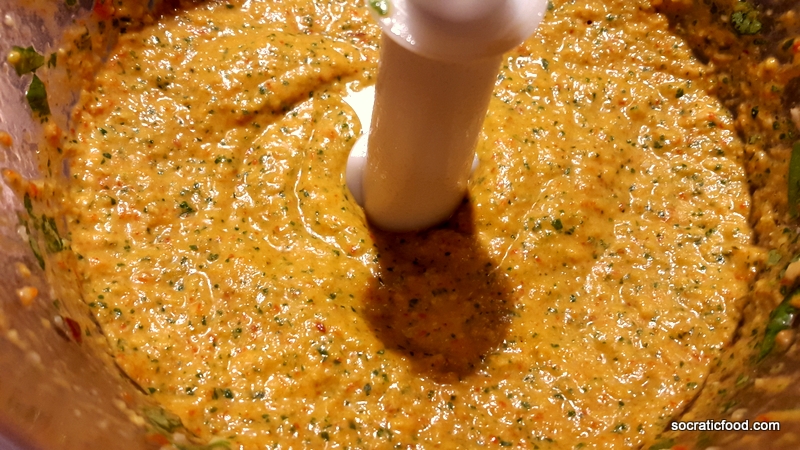 Cook the penne in salted water according to the instructions on the box, maybe 1-2 minutes less to become "al dente". Before you drain it, keep one cup of the pasta water aside.
In the pot you boiled the penne, add 5-6 tablespoons of olive oil and heat it up. Add the penne and stir well. Lower the heat to minimum and add the pesto sauce from the blender while stirring. Add a little of the pasta water you saved and keep stirring. If the penne still looks dry, add some more of the water. You're done!
Serve hot with some basil leafs and plenty of parmesan. Some crushed red peppercorns would give it a great kick, and colour.
Bon appetit!
(Visited 495 times, 1 visits today)