When most of us hear about omelettes we tend to think of a boring plate served in restaurants and hotels as part of a continental breakfast. Well, it doesn't have to be that way and I share with you a way to prepare quickly an alternative version of an omelette.
This is a version of the Italian "Frittata", an omelette with vegetables and meats able to feed the entire family and maybe more. I started loving the dish when I was living in Italy and it became one of my favourites "what-can-I-cook-with-what's-in-the-fridge" meals.
The choice of vegetables and meats depends on which country you are in. For me, the best choice for the meat part is "Apaki", a Cretan cured pork meat smoked in olive oil and herbs. Any other cured meat would do great, even some Pastirma for the adventurous ones! Now, I have to live with excellent British bacon rashers. Not that bad…
Ingredients (serves 4 people)
2 big potatoes chopped in large cubes

250 gr (0.5 lb) mushrooms of your choice cut in thick slices.

1 large onion finely chopped.

1 courgette (zucchini) sliced.

6 rashers of bacon.

½ cup of extra virgin olive oil.

6 eggs.

200 gr (0.4 lb) shredded cheese of your choice (Mozzarella, Gouda, Jarlsberg etc)

½ a cup of milk.

Ground chilli flakes.

Salt and ground pepper.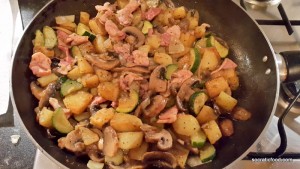 In medium heat add the olive oil in a large frying pan and start frying the potatoes. Make sure that they get cooked on every side. When they start getting soft, add the mushrooms, courgettes, onions and the bacon cut into pieces. Add the chilli flakes, salt and pepper to taste.
Be careful with the salt at this point, especially if you are adding salty cheeses later on. Stir the vegetables with the bacon until they soften.
Preheat the oven to 200 degrees Celsius (390 F). Add the eggs and milk in a bowl and whisk them until you have a smooth mixture.
Now you have two options!
You can add the cheese and the eggs in the frying pan and let it cook for 4-5 minutes without turning the omelette upside down. When ready, put the frying pan in the oven in order to cook the eggs on the top. That should take ~15 minutes and your omelette will be nice and brown. Make sure that your pan can handle the heat from the oven. I have tried with several pans myself without any problem.

Use a bowl or a tray suitable for the oven and add the mixture from the pan. Add the cheese and pour the egg-milk mixture. Bake it in the oven for ~ 20 minutes until your omelette gets nice golden brown in colour.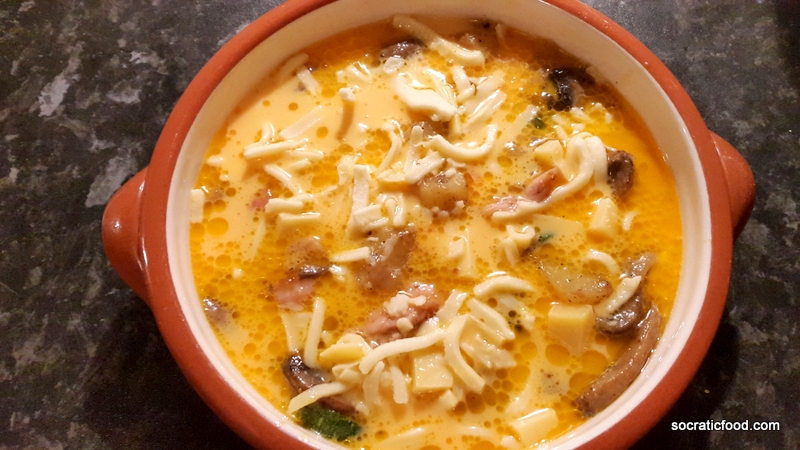 Serve it hot and enjoy it with nice bread and a glass of red wine of your choice.
Bon appetit!
(Visited 506 times, 1 visits today)