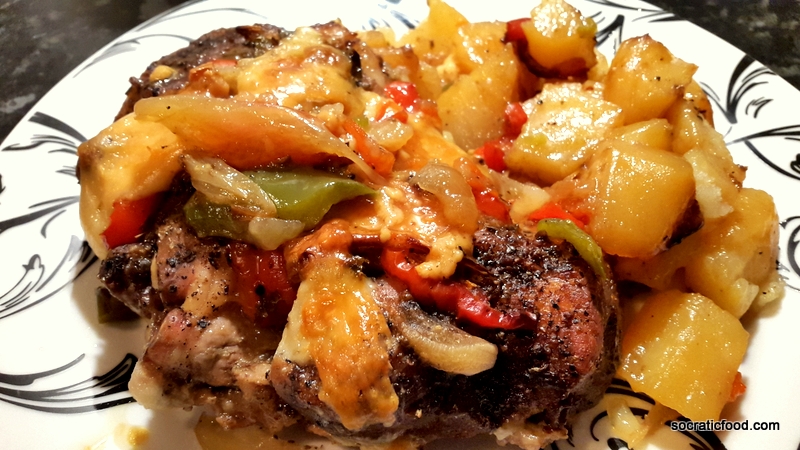 Mouth-melting pork in the oven on a vegetable nest! It's such an easy to make recipe, just prepare the meat and vegetables and forget it in the oven for a few hours.
I had a craving for some pork knuckles, like the Schweinshaxe I had in Germany a few months ago. Unfortunately, it seems that it is impossible to find these guys where I live so the next best thing was a nice piece of pork shoulder.
The whole idea of this meal is to let it cook slowly in the oven by its vapours and juices. You place everything (meat and vegetables) in a "nest" created by greaseproof paper and you close it tightly. Of course you can use any kind of meat you prefer but this one is for pork lovers. Add some cheese on top at the end and you will be in heaven (or hell for my healthy-eating friends)!
Ingredients (serves 2 people)
500 gr (1 lb) of pork shoulder (preferably 2 knuckles).

2-3 potatoes cut in cubes.

½ onion coarsely cut.

½ green bell pepper cut in stripes.

½ red bell pepper cut in stripes.

2-3 garlic cloves coarsely chopped.

Juice of 2 lemons

1 teaspoon of English mustard.

1 tablespoon dried oregano.

1/3 cup of extra virgin olive oil.

Salt and ground pepper.

(optional) 100 gr (3.5 oz) hard cheese (Manchego, mature Cheddar etc).
Wash the meat and dry it using a kitchen towel. Season both sides with salt and pepper.
On a large surface in your kitchen cut 2 pieces of greaseproof paper, long enough to cover all the ingredients. Place them in a "cross" arrangement.
Add a few pieces of onion and peppers in the middle and place the meat on top. Squeeze a few pieces of garlic into the meaty flesh. Place the potatoes around the meat and add the rest of onion, peppers and garlic on top.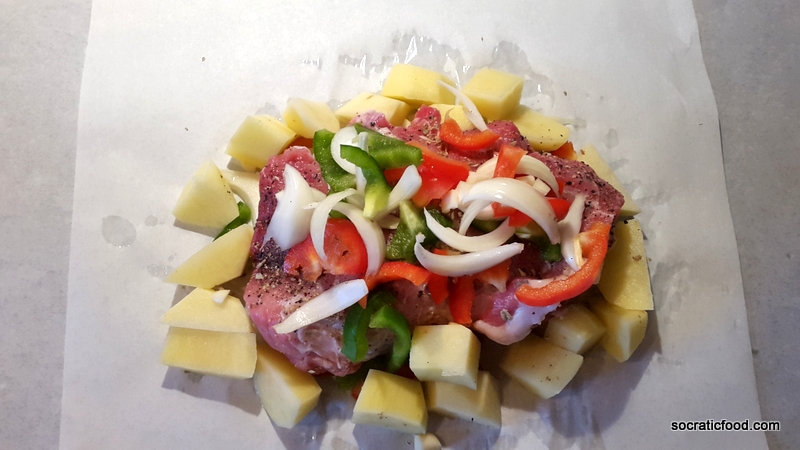 In a cup, add the lemon juice, mustard, oregano and olive oil and mix well. You may add some white wine if you fancy. Add salt and pepper to season to your taste and fold the paper sheets trying to create a nest! Careful not to create any holes as we want all the juices to remain inside. Pour the sauce into your nest and close the paper sheets tightly.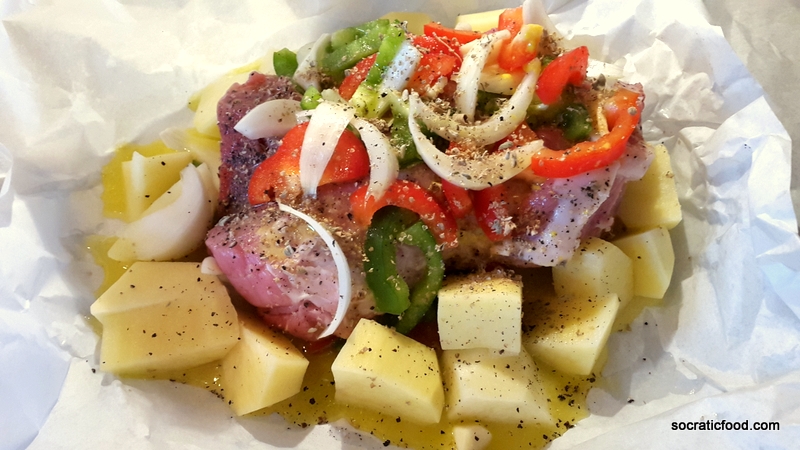 Place the nest in a baking tray and let it cook for for ~ 3 hours in a preheated oven at 160 degrees Celsius (320 F). The whole purpose is that the vapours remain inside the nest while cooking so I cover it with aluminium foil, just to be safe.
When almost ready, open the nest, add the cheese on top (optional) and let it cook at 180 Celsius (360 F) for ~ 15 minutes to get the nice brown colour in the meat and potatoes.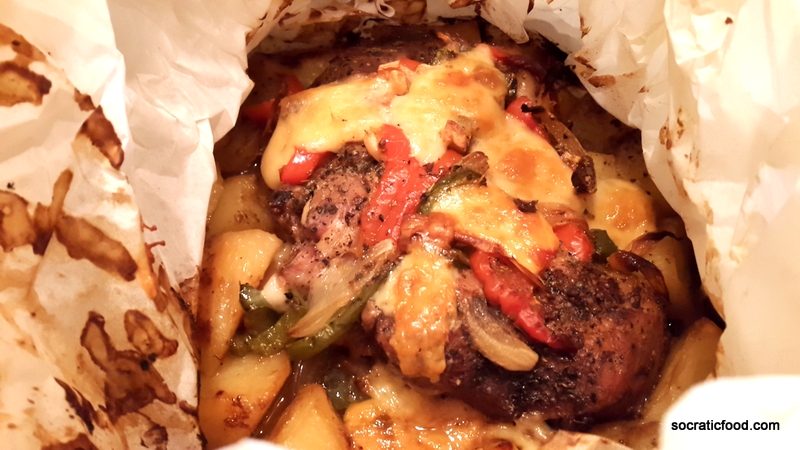 Serve it hot and I guarantee that it will melt in your mouth.
Bon appetit!
(Visited 632 times, 1 visits today)