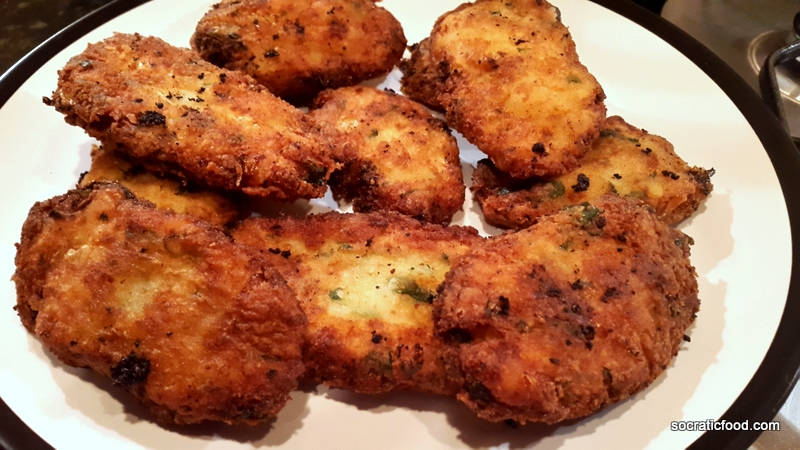 Lovely potato cakes with the necessary ingredient, cheese. They are quite easy to make and can be used as a starter or as a side dish for a meaty plate.
I have been a little reserved in the amount of cheese that I put in the recipe. Please, go ahead and use any cheese you fancy, as much as you like. You can be more adventurous and add some ham or fried bacon pieces (lardons or pancetta).
Ingredients (~ 16 cakes)
4 big potatoes.

1 ½ onion chopped.

2 eggs.

A few leaves of mint chopped.

A bunch of flat-leaf parsley chopped.

100 gr (3.5 oz) of grated mozzarella.

100 gr (3.5 oz) of grated cheddar or Manchego.

½ cup of sunflower oil.

½ cup of plain white flour.

½ cup of breadcrumbs.

Salt and ground pepper.
Peel and boil the potatoes until you can easily pierce them with a knife. Cut them in pieces, add them to a large bowl and mash them with a fork to create a smooth paste. Alternatively you can use a blender.
Add the chopped onion, mint, parsley, eggs and cheeses. Season with salt and pepper to taste. Use your hands and "knead" the mixture until all the ingredients blend well. Cover with a cling film and leave it in the fridge for ~ 1 hour.
Warm the sunflower oil in a large frying pan in medium to high heat. Use some of the mixture and mould into long and thin cakes. Cover them first with flower, then with breadcrumbs and place them into the frying pan. Cook until golden brown.
When cooked, place them on a tray covered with kitchen towel to absorb the excess oil. You can serve them warm or hot.
Bon appetit!
(Visited 880 times, 1 visits today)