Roasted Eggplant and Tomatoes Tart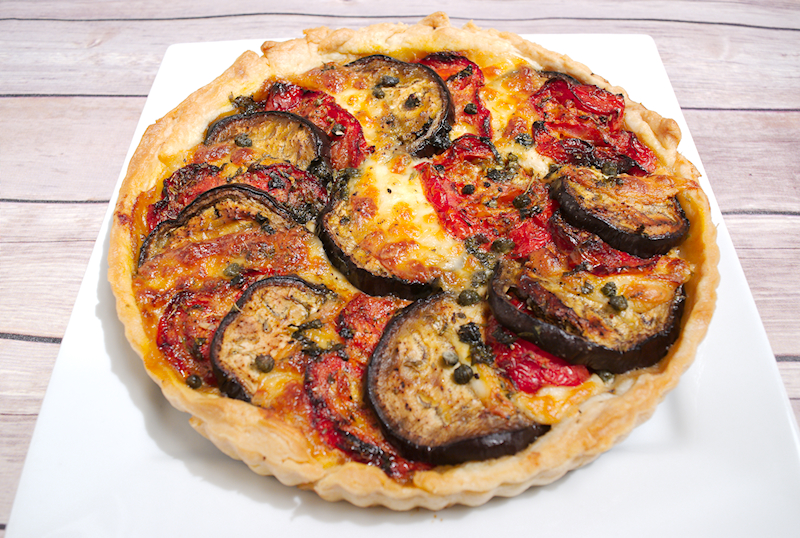 1 shortcrust pastry sheet.
1 eggplant sliced.
5-6 medium sweet and juicy tomatoes sliced.
200 gr (7 oz) fresh mozzarella (di Bufala if possible).
A small bunch of fresh basil finely chopped.
A few capers.
~ ½ cup of extra virgin olive oil.
A pinch of dried oregano.
Salt and ground pepper.
Preheat the oven at 180 degrees Celsius (360 F).
Cut the eggplants and tomatoes into ~1/2 inch thick slices. Cover a flat tray with parchment and put the eggplants on top. Brush them with olive oil and sprinkle some salt. Cover another tray with parchment and lay the tomato slices. Sprinkle some olive oil on top, oregano, salt and pepper. Roast the eggplants and tomatoes until they start getting brown (the tomatoes may need a bit more time).
Use a medium round tray for tarts a brush the bottom and walls with olive oil. Place the shortcrust pastry sheet and make sure it covers the bottom and walls. Cut the remaining pastry. Slice the mozzarella in about ½ inch tick slices. Start filling your tart by placing 1 eggplant slice, one tomato slice and a slice of mozzarella. Repeat until you cover the whole tray. While doing that, throw some of the basil.
Add the rest of the basil on top and scatter some capers. Season with salt and pepper.
Bake in the oven for ~ 30 minutes until the cheese starts getting a nice brown color.
Serve hot or warm.
Bon appetit!
Recipe by
SocraticFood
at https://socraticfood.com/roasted-eggplant-and-tomatoes-tart/