Hungarian Chicken Paprikash in a Creamy Sauce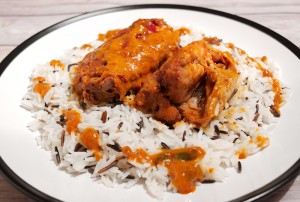 6 chicken thighs with the skin on.
1 large onion finely chopped.
1 green pepper chopped.
3-4 sweet and ripe tomatoes cut in cubes.
2 teaspoons tomato paste.
2 tablespoons Hungarian sweet paprika.
1 teaspoon smoked paprika.
4 tablespoons extra virgin olive oil.
2 tablespoons Greek yoghurt.
Salt and ground pepper.
Wash the chicken thighs in cold water and dry them with a kitchen towel. Season with salt and pepper. Add the olive oil in a deep pot on medium heat. Place the chicken thighs in the pot with the skin facing the bottom. Cook for ~ 10 minutes until the thighs are nicely brown in both sides. Remove the chicken pieces from the pot and set aside.
In the same pot add the onion and green pepper and cook until the onion starts caramelizing. Add the chicken thighs on top and add the sweet and hot paprika. Season with salt and pepper and give it a good stir. Cook for ~ 30 seconds (not more as the paprika will become bitter).
Add the fresh tomatoes and tomato paste. Add 1-2 cups of hot water (until it covers the chicken) and bring it to boil. Set the heat to low, cover with a lid and let in cook for ~ 90 minutes until the juices have reduced.
Remove the chicken pieces from the pot and set aside. Use a hand mixer and create a thick paste with the remaining sauce in the pot. Add the yogurt and stir well. Bring the chicken back to the pot and cook for another 5 minutes on low heat.
Serve the Chicken Paprikash hot with wild rice or pasta.
Bon appetit!
Recipe by
SocraticFood
at https://socraticfood.com/hungarian-chicken-paprikash-in-a-creamy-sauce/