Greek Eggplant Pie with Peppers and Feta (Melitzanopita)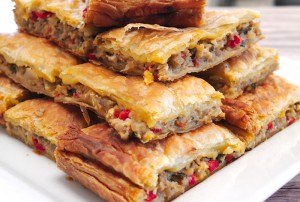 5 large eggplants
2 long peppers finely chopped.
2 onions finely chopped.
1 red chili pepper finely chopped.
1 beef tomato peeled and diced.
A small bunch of flat-leaf parsley finely chopped.
½ cup of extra-virgin olive oil.
Juice of one lemon.
2 puff pastry sheets.
2 eggs.
200 gr (7 oz) Feta cheese crumbled.
100 gr (3.5 oz) yellow hard cheese grated.
Salt and ground pepper.
Peel the skin of the eggplants and use the coarse side of a grater to grate them. Place them in a colander, sprinkle some salt and the lemon juice and let them release their juices for ~ 30 minutes.
Add the onion, red pepper and chili in a pot together with ½ cup of hot water on medium heat. Bring it to boil and let it cook for 3-4 minutes until the onion and peppers become soft. Add 4-5 tablespoons of olive oil and the diced tomato and continue cooking for another 5 minutes or so.
Add the grated eggplant, season with salt and pepper and stir well. Let it cook for 6-7 minutes while stirring occasionally. Add the parsley, stir well and cook for another 2 minutes.
Remove the pot from the heat and let it cool down. You can put it in the fridge for ~ 30 minutes or leave it outside for an hour or so. It is important that the mixture is cold enough before the next step.
Add the eggs, Feta and grated yellow cheese into the mixture and stir well.
Preheat the oven at 220 degrees Celsius (430 F).
Use a large and relatively shallow tray. Spread some olive oil on the bottom and the side walls of the tray using a kitchen brush. Cover the bottom (and part of the side walls) with a sheet of puff pastry. Add the mixture and use a spoon to spread it nicely. Make sure that the eggplant filling in the pie is not very thick, a bit less than an inch (~ 2 cm). Cover the mixture with the second pastry sheet and fold it in the sides and corners. Spread some olive oil again on the top. Use a sharp knife and gently cut the pie into the pieces you are going to serve later. Make sure you don't reach the bottom with the knife.
Bake your pie for ~ 30 minutes until golden brown.
Let it rest at room temperature for ~ 20 minutes to be able to cut it easily.
Bon appetit!
Recipe by
SocraticFood
at https://socraticfood.com/greek-eggplant-pie-with-peppers-and-feta-melitzanopita/