Eggplant Parmigiana with Feta and Mushrooms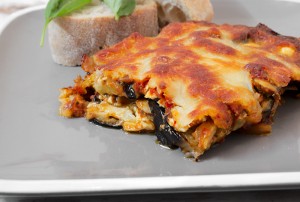 3 eggplants.
1 large onion chopped.
250 gr (9 oz) of mushrooms sliced.
3-4 garlic cloves.
3-4 large ripe tomatoes.
300 ml (10 fl oz) tomato passata (purée)
A small bunch of fresh basil.
250 gr (9 oz) grated mozzarella.
150 gr (5 oz) feta crumbled.
50 gr (2 oz) grated parmesan.
Extra-virgin olive oil.
1 teaspoon thyme.
1 teaspoon paprika.
Salt and ground pepper.
Slice the eggplants in round slices, ~ 1 cm (½ inch) thick. Brush them with olive oil on both sides and fry them on high heat for ~ 2 minutes each side. Place them on a tray covered with kitchen towel and set aside.
Add the tomatoes, garlic and basil in a blender and create a smooth paste.
Add 3-4 tablespoons of olive oil in a frying pan on medium heat. Add the onion and fry for 3-4 minutes until it gets soft. Add the sliced mushrooms, sprinkle with the thyme and season with salt and pepper. Careful with salt as feta and parmesan are quite salty cheeses. Give it some good stir.
When mushrooms start becoming brown, add the fresh tomato paste and the passata. Add the paprika and stir well. Lower the heat to low-medium and let the sauce cook until it reduces its juices.
Preheat the oven at 170 degrees Celsius (340 F).
Use a medium tray and cover its bottom with some of the sauce. Add a layer of eggplants. Add some of the Feta, mozzarella and parmesan. Use half of the sauce to cover it. Add another layer of eggplants, the remaining of the sauce and the rest of the cheeses.
Bake for ~ 20 minutes until the cheese on top starts getting brown.
Serve warm with some nice bread.
Bon appetit!
Recipe by
SocraticFood
at https://socraticfood.com/eggplant-parmigiana-with-feta-and-mushrooms/