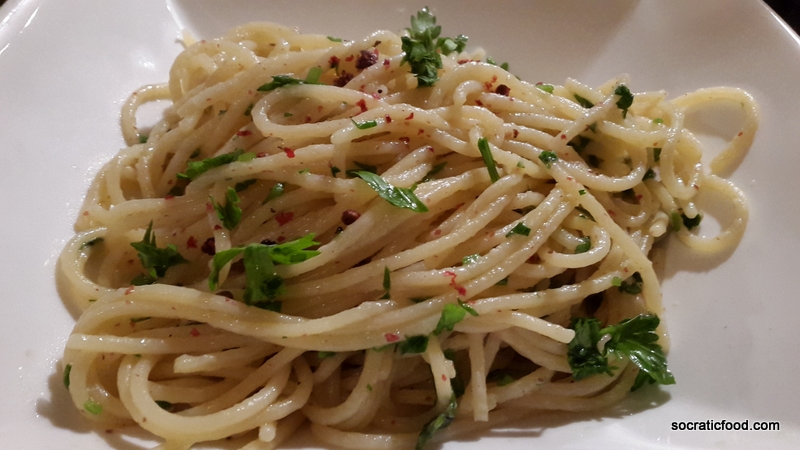 A friend recently recommended "Chef", an American movie that was released in 2014. He knows my passion about food and he promised that it's a fun, light-hearted comedy to watch on a Sunday afternoon. I did watch it and actually it was more than that.
Jon Favreau (director, writer and leading actor) has created a story of a talented chef that fails to get the recognition that he deserves and jumps into a life adventure where food is the key element. It's funny, sweet, with good pace and without the exaggerations of modern cheap-looking comedies. I am not going into details, don't want to spoil it for you.
One of the best scenes in the film (for us, the food lovers and probably male readers who appreciate female beauty) is when Jon Favreau cooks a simple pasta dish for his friend, played by Scarlett Johansson. The dish is based on the classic Italian "aglio e olio" recipe, which means garlic and oil. A true glorification of simple ingredients that made Scarlett moaning with pleasure when she got the first bite. That was it! Immediately I wanted that spaghetti in my plate!
Apparently the dish was created by Roy Choi, a famous chef behind the Kogi BBQ in California. He prepares it every Sunday evening and Jon asked him to share it in the film. The recipe appeared in the Food&Wine website and it was a challenge for me to try and make it.
I am not posting the recipe here, you can find it in the Food&Wine site. However, I share with you some photos from my effort to follow the instructions exactly. In my opinion, the key ingredients are the crushed red pepper corns and the acid touch of lemon juice. Be generous in the parmesan cheese, you will be rewarded.
Honestly, it's one of the best pasta meals I've ever tried. Even if there is no Scarlett around to impress, you will take your palates to an orgasmic trip!
Check out the trailer:
(Visited 3,657 times, 1 visits today)