Perfect Greek Moussaka Cake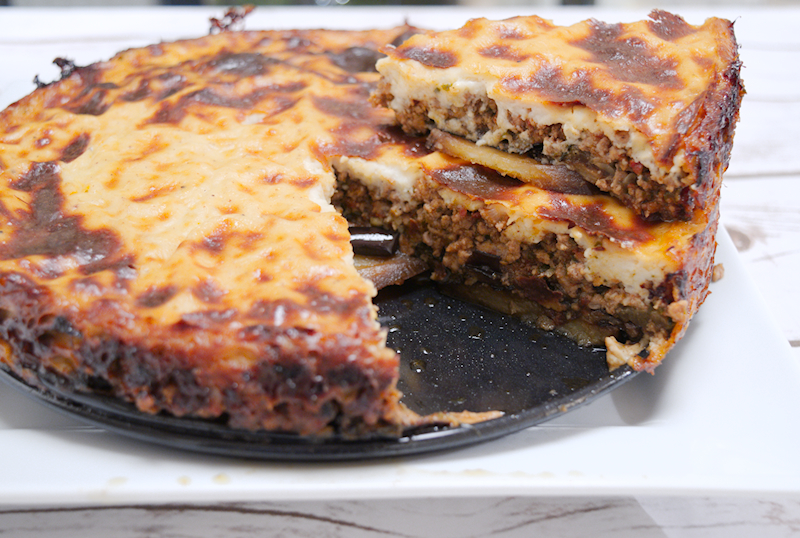 2 eggplants sliced lengthwise.
2 potatoes sliced.
1 zucchini sliced lengthwise.
400 gr (14 oz) ground beef.
2-3 large ripe and sweet tomatoes.
1 tablespoon tomato paste.
1 onion chopped.
A small bunch of flat-leaf parsley.
2-3 garlic cloves.
½ teaspoon ground nutmeg.
A pinch of ground cinnamon.
½ teaspoon allspice.
1 teaspoon paprika.
½ teaspoon ground cumin.
A generous pinch of dried oregano.
100 gr (3.5 oz) grated yellow cheese (Manchego, mature Cheddar etc).
1 ½ cup (may be more) of extra-virgin olive oil for frying.
Salt and ground pepper to taste.
For the Bechamel sauce:
1 tablespoon of butter.
2 tablespoons of flour.
700 ml (24 fl oz) of whole milk.
100 (3.5 oz) of grated yellow hard cheese.
A pinch of salt and pepper.
1 egg.
½ teaspoon of ground nutmeg.
Start frying the sliced eggplants, potatoes and zucchini until golden brown. When ready, place them on a tray covered with kitchen towel to absorb the excess oil.
Add 2-3 tablespoons of olive oil in a large frying pan on medium heat and start frying the onion. When the onion starts getting soft, add the ground beef. Add the cumin, oregano, paprika, nutmeg and season with salt and pepper. Stir well and let the beef cook and release its juices.
Add the tomatoes, garlic, parsley and tomato paste in a blender, add ½ cup of water and create a smooth paste.
When the beef is cooked and the juices have reduced, add the tomato paste from the blender. Lower the heat, stir well and let it cook for ~ 20 minutes until the juices from the sauce are reduced. Try it yourself to see if it needs more seasoning or spices.
Make the bechamel sauce according to the instructions provided in the link above.
Preheat the oven to 190 degrees Celsius (375 F).
Use a large spring form cake tin and cover the bottom with a layer of potatoes. Then add a layer of eggplants and zucchini. Season with salt and pepper. Add another layer of eggplants. Spread your beef mixture over and add the grated cheese. Cover the Moussaka with a generous layer of bechamel sauce.
Bake the Moussaka cake for ~ 45 minutes until the bechamel on the top gets golden brown. Careful, your baking tray might leak so you may need to have another on the bottom of your oven to prevent a mess.
Let the Moussaka rest for ~ 30 minutes. Remove the side of the tray using the spring.
Serve warm and bon appetit!
Recipe by
SocraticFood
at http://socraticfood.com/perfect-greek-moussaka-cake/