Mediterranean Tuna Steaks Casserole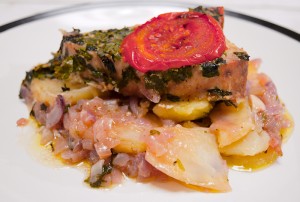 4 tuna steaks (500 gr, ~ 17 oz).
2 large potatoes sliced.
2 red onions finely chopped.
A small bunch of flat-leaf parsley finely chopped.
A small bunch of fresh mint finely chopped.
1 large tomato sliced.
2-3 garlic cloves sliced.
Juice from 1 lemon.
½ cup of extra-virgin olive oil.
½ cup of water.
⅓ cup of white wine.
Salt and ground pepper.
Brush the tray with some of the olive oil.
Preheat the oven at 180 degrees Celsius (360 F).
Add the potato slices to cover the bottom of the tray. Add half of the onion and season with salt and pepper to taste.
Add another layer of potatoes and the rest of the onion. Season again with salt and pepper.
Place the tuna steaks on top of the onion. Add the garlic. Add the parsley and mint. Pour in the lemon juice, wine, olive oil and water. Place one tomato slice on top of each tuna steak. Season with some salt and pepper.
Cover the tray with some kitchen foil. Bake for ~ 1 hour until the potatoes have softened.
Bon appetit!
Recipe by
SocraticFood
at http://socraticfood.com/mediterranean-tuna-steaks-casserole/