Fresh Tuna Burgers with Tartare Sauce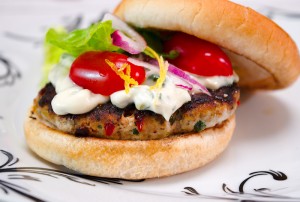 3 fresh tuna steaks, ~ 400 gr (14 oz).
8-10 spring onions.
1 red chili pepper.
Zest from one lemon.
1 garlic clove.
8-10 mint leafs.
A small bunch of flat-leaf parsley.
1 teaspoon of salt.
1 teaspoon of ground pepper.
For the Tartare sauce:
200 ml (~ 1 cup) of mayonnaise.
~ 15 pickled gherkins (cornichons) chopped into small pieces.
2 tablespoons pickled capers chopped.
A small bunch of tarragon, finely chopped.
Add all of the ingredients for the burgers in a blender and create a smooth paste.
Divide the paste into 4-5 pieces and create the burgers. They should be relatively flat so they can be cooked enough inside.
Add a bit of extra-virgin olive oil in a frying pan (or griddle pan) on medium heat. Cook the burgers for ~ 2 minutes each side.
For the Tartare sauce, add all of the ingredients in a bowl and mix well.
Serve the burgers hot with the Tartare sauce and salad.
Bon appetit!
Recipe by
SocraticFood
at http://socraticfood.com/fresh-tuna-burgers-with-tartare-sauce/