Cheesy and Meaty Turkish Pide (Peinirli)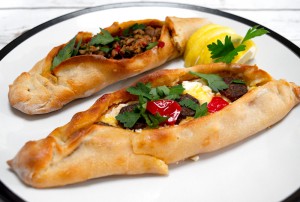 500 gr (18 oz) all-purpose flour.
2 tablespoons of yeast.
~ 2 cups of warm water.
2 eggs.
½ cup of extra-virgin olive oil.
2 tablespoons of Greek yoghurt.
500 gr (18 oz) ground lamb.
1 red pepper finely chopped.
2 red chilies finely chopped.
1 large onion finely chopped.
3-4 garlic cloves finely chopped.
3-4 sweet and ripe tomatoes cut in small cubes.
1 teaspoon of cumin.
1 teaspoon of chili powder.
1 tablespoon of dried oregano.
A bunch of flat-leaf parsley.
200 gr (7 oz) of goat's cheese.
150 gr (5 oz) crumbled Feta cheese.
100 gr (3 oz) grated Gouda or Cheddar.
1 sujuk sliced.
Salt and ground pepper.
Add the yeast, 1 cup of warm water and 1 tablespoon of salt in a bowl. Mix well and let it breath for ~ 10 minutes.
Add the flower, ⅓ cup of the olive oil, one egg and yoghurt to the bowl. Add 1 cup of warm water and start kneading. Add more water if needed. Knead for ~ 10 minutes until the dough does not stick to your fingers.
Cover the dough with cling film and let it rise for ~ one hour.
Add 2 tablespoons of olive oil in a large frying pan on medium heat. Start cooking the mince lamb. Add the cumin, chili powder and oregano. Season with salt and pepper to taste. Stir well.
Add the onion, garlic, red pepper and chilies. Cook until they start getting soft and the meat is brown.
Add the chopped tomatoes (save some for the cheesy version) and parsley (save some for topping at the end). Cook on low heat until the juices have reduced. You may add a teaspoon of tomato paste if you like.
For the cheesy Pide, mix the goat cheese, Feta, Gouda and tomato cubes all together in a bowl.
Place a large piece of kitchen foil on the bench. Spread some flour on the surface. Take a piece of the dough (the size of a golf ball) and use your fingers to enlarge it to create the dough base for your Pide.
Preheat the oven at 180 degrees Celsius (360 F).
Add some of the mixture in the Pide and close it to form a "gondola", as it shows in the pictures. For the cheesy ones, add 3-4 slices of sujuc on top of the cheese filling. At the end, you should have ~ 10 Pide, meaty and cheesy ones.
Spread some olive oil on a tray and place the Pide. Whisk an egg in a bowl and spread it on top of the Pide using a kitchen brush.
Cook at 180 Celsius (360 F) for ~ 20 minutes until they turn golden brown in colour.
Bon appetit!
Recipe by
SocraticFood
at http://socraticfood.com/cheesy-and-meaty-turkish-pide-peinirli/