Stuffed Vine Leaves with Rice and Herbs (Dolma Yalanci)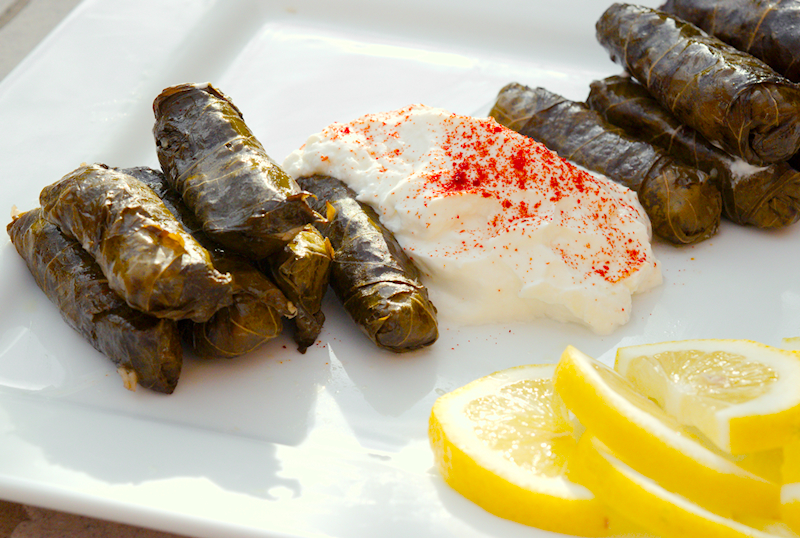 80-100 vine leaves.
2 cups of rice (long grain or basmati).
2 large onion,s finely chopped.
8-10 spring onions chopped.
1 cup of fresh dill chopped.
1 cup of fresh spearmint finely chopped.
1 cup of extra-virgin olive oil.
Juice from 4 lemons.
Salt and ground pepper.
Blanch the vine leaves in boiling water until they turn from green to brown in colour, ~ 10 seconds. Use 5-6 of them each time.
In a large bowl, combine the rice, onion, spring onions, dill, spearmint, olive oil and lemons. Season with salt and pepper and mix well.
Choose a large pot and cover the bottom with the largest vine leaves. Save a few of them for the top.
Use a plate and start rolling the dolma. Choose a vine leaf and place the side with the nerves facing up. Add a small teaspoon of the mixture close to the top. Start folding from the top making sure the dolma is kept tight. Fold in the sides and then roll it. Use your thumbs to make sure the dolma is kept tight during the whole process.
Place the rolled dolma around the pot in a circular arrangement, making sure they are packed in tightly.
When finished, cover with the remaining large leaves. Cover the dolmades with a large plate facing down so they do not move during cooking.
Add hot water to the pot so the dolmades are fully covered. Cook on low heat for ~ 90 minutes until the dolmades are soft and the rice is cooked (don't be scared, try one while they are cooking!). If they are not done and you are running out of juices, add some hot water.
When ready, have someone holding the plate and empty the remaining juices into a pot. You may add some corn flour and make a nice sauce for your dolmades.
You can serve them warm or cold with some Greek yogurt.
Bon appetit!
Recipe by
SocraticFood
at http://socraticfood.com/stuffed-vine-leaves-with-rice-and-herbs-dolma-yalanci/