Spinach and Fennel Pancakes (Marathopita)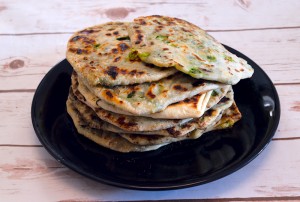 200 gr fresh spinach.
1 cup of fennel leaves.
A small bunch of flat-leaf parsley.
5-6 spring onions.
½ of onion.
300 gr (10 oz) all-purpose flour.
½ cup of extra-virgin olive oil (+ a bit more for frying).
100 gr (3.5 oz) crumbled Feta (optional).
Salt and ground pepper.
Chop the spinach, fennel, spring onions, onion and parsley. Put them in a bowl, season with salt and pepper and mix well. You may add the Feta if you choose to. Put the mix in a colander and let it release its juices for about an hour.
Add the flour, oil and 1 teaspoon of salt in a large bowl and start kneading. Add some water and keep kneading until you make an elastic dough that does not stick to your hands. Cover with cling film and let the dough "rest" for an hour.
Take a piece of the dough (about the size of a large egg) and open it on a large surface using a rolling pin. The pastry should be thin but not to thin.
Add some of the mixture in the centre and cover it with the surrounding dough. Make a ball with your hands and make sure that your ingredients are sealed. Roll it again so all of the ingredients are compacted and ready to fry.
Add one tablespoon of olive oil in a frying pan on medium-high heat. When it's hot, start frying the pancakes, about 1 minute on each side. Repeat with the rest of the pancakes, adding some oil when needed.
Serve them warm and enjoy them with a glass of Raki.
Bon appetit!
Recipe by
SocraticFood
at http://socraticfood.com/spinach-and-fennel-pancakes-marathopita/