Greek Spinach and Feta Pie (Spanakopita)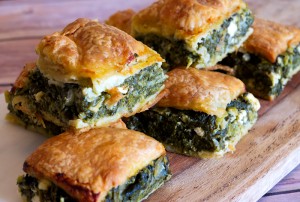 1 kg (35 oz) of spinach (fresh or frozen).
2 leeks sliced.
A generous bunch of fresh dill chopped.
7-8 spring onions sliced.
1 onion chopped.
250 (9 oz) gr feta cheese crumbled.
2-3 eggs.
Ground pepper.
½ cup extra-virgin olive oil.
12 sheets of filo pastry
Warm up ⅓ cup of olive oil in a pot on medium heat. Cook the onion, spring onions and leeks until softened. Add the spinach and cook it until it releases all the juices. Give a stir from time to time.
Add the dill. Cook for around 10 minutes. Remove from heat and try to remove most (if not all) the juices.
Add the feta, season with ground pepper and stir well. Feta is salty so you don't need any salt.
Whisk the eggs in a bowl. Wait until the spinach mixture cools down and add the eggs to the pot. Stir well. The spinach should be cold because you don't want the eggs to be cooked in the pot but rather in the tray.
Spread some olive oil with a kitchen brush on a tray and add one filo sheet. Spread some oil on top of that and add a second and so on (around 5-6 Sheets). Add the spinach mixture and cover with filo sheets again, spreading olive oil in between.
When finished, fold the edges of the excess filo sheets to confine the mixture. Use a knife to carve gently the pie in pieces that you will serve. You may spread one whisked egg with a brush on the top for that golden finish.
Bake for ~ 45 minutes at 180 Celsius (360 F) until golden brown.
Bon appetit!
Recipe by
SocraticFood
at http://socraticfood.com/greek-spinach-and-feta-pie-spanakopita/