Chicken Kebabs (Kabobs) in the Oven with Eastern Aromas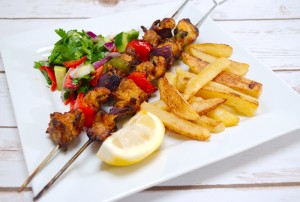 8-10 skinless chicken thighs cut in square pieces.
2 red bell peppers cut in square pieces.
2 green bell peppers cut in square pieces.
1-2 onions cut in square pieces.
200 gr (7 oz) Greek yoghurt.
2 teaspoons ground cumin.
¼ teaspoon cinnamon.
1 teaspoon paprika.
2-3 garlic cloves finely chopped.
1 tablespoon dried oregano
Juice of one lemon.
2-3 tablespoons extra virgin olive oil.
Salt and ground pepper.
Thread the chicken pieces onto the skewer while alternating with green pepper, onion and red pepper. You should have 5-6 chicken pieces on each skewer. You should end up with 8 kebabs. Place them on a tray.
In a bowl, mix the yoghurt, cumin, paprika, cinnamon, garlic, oregano, lemon and olive oil to create the marinade. Season with salt and pepper. Pour the marinade on top of the kebabs making sure that all the sides are covered. Cover with cling film and keep them in the fridge for 4-12 hours.
Preheat the oven at 190 degrees Celsius (370 F).
Cover the bottom of a tray with kitchen foil. Place the skewers on top of the tray, resting on the opposite walls.
Bake for ~ 20 minutes until golden brown. During the cooking, check if the kebabs need to be turned around so the bottom side gets brown too.
Bon appetit!
Recipe by
SocraticFood
at http://socraticfood.com/chicken-kebabs-kabobs-in-the-oven-with-eastern-aromas/