Greek-style Pork Enchiladas with Feta and Peppers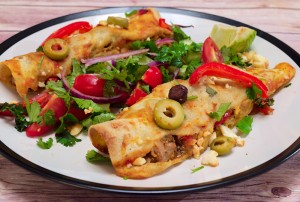 4 shoulder pork steaks cut in cubes.
8 corn tortilla wraps.
2 red bell peppers (1 chopped and 1 sliced for garnish).
1 green bell pepper chopped.
1 onion chopped.
1 red chili pepper finely chopped.
A few Jalapenos in a jar finely chopped.
3-4 garlic cloves finely chopped.
200 ml (7 fl oz) Mexican Salsa.
4-5 tablespoons of extra virgin olive oil.
Pitted olives sliced.
200 gr (7 oz) crumbled Feta cheese.
A generous pinch of dried oregano.
Chopped flat-leaf parsley.
Salt and ground pepper.
In a large frying pan on medium heat, heat up the olive oil and fry the pork cubes until they start getting brown. Season with salt, pepper and oregano.
Add the onion, red and green chopped peppers, chili, Jalapenos and garlic. Cook until they softened while stirring from time to time.
Add the Salsa, reduce the heat to low-medium and let all the ingredients cook for 5-7 minutes.
Preheat the oven at 180 degrees Celsius (360 F).
Use one tortilla and fill it with the meat mixture. Top it with some crumbled Feta and place it in a tray. Repeat for the other tortillas.
Use the remaining sauce and spread it on top of your enchiladas. Top them with the sliced peppers, olives, parsley and the remaining Feta. If it looks dry, sprinkle some olive oil on top.
Bake the enchiladas for 15-20 minutes.
Serve them hot with Pico de Gallo.
Bon appetit!
Recipe by
SocraticFood
at http://socraticfood.com/greek-style-pork-enchiladas-with-feta-and-peppers/