Maine Lobster Tail Spaghetti in Fresh Tomato Sauce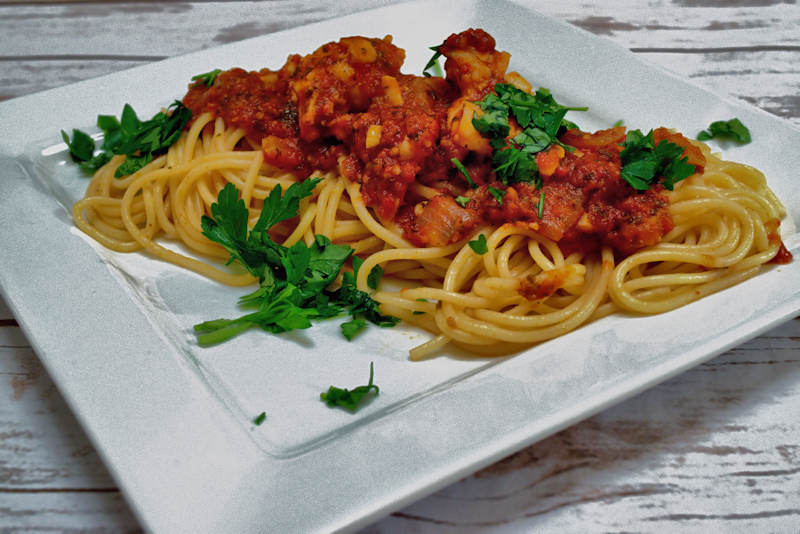 2 Maine lobster tails
200 gr (7 oz) peeled shrimps (optional).
3-4 large and ripe tomatoes.
300 ml (10 fl oz) tomato passata.
1 large onion finely sliced.
1 chili pepper finely chopped.
3-4 garlic cloves finely sliced.
1 tablespoon dried oregano.
1 small bunch of flat-leaf parsley.
1 teaspoon paprika.
2 shots of Ouzo
½ cup of extra virgin olive oil.
500 gr (17 oz) spaghetti.
Salt and ground pepper.
Take the flesh out of the lobster shells. Keep the flesh aside and boil the shells in 1 lt ( 33 fl oz) of water for ~ 20 minutes. Use a strain to remove the shells from the stock and keep it aside for later.
Cut the lobster flesh in small bites, ~ 1 inch thick.
In a blender, add the tomatoes and the fresh parsley (keep some for the garnish) and create a smooth paste.
Warm up 5-6 tablespoons of olive oil in a large frying pan on medium heat. Add the onion and cook until it starts getting soft. Add the garlic and cook for another minute. Give it a stir from time to time.
Add the lobster pieces. Season with salt and pepper. Add the two shots of Ouzo and cook for 2-3 minutes. Remove the lobster pieces and set aside.
Add the fresh tomato paste together with the passata. Add the oregano and paprika. Give it a good stir and let it cook for ~ 15 minutes on low-medium heat until the sauce has thickened.
Use the fish stock you made and add some water if needed in a pot. Add some salt and a tablespoon of olive oil. Boil the spaghetti according to the instructions in the box (al dente). Just before pasta is ready, keep a cup of the pasta water and set aside.
Drain the pasta and warm up 3-4 tablespoons of olive oil in the pot on low heat. Add the spaghetti, stir well and add some of the pasta water. This will give a creamy texture to your pasta.
Your sauce must be ready by now. Add the cooked lobster pieces to the frying pan together with the shrimps (optional). Stir well and cook for 2-3 minutes.
Serve the spaghetti with the lobster sauce on top.
Bon appetit!
Recipe by
SocraticFood
at http://socraticfood.com/maine-lobster-tail-spaghetti-in-fresh-tomato-sauce/