Greek-style Fried Pork Bites with Peppers and Feta Cheese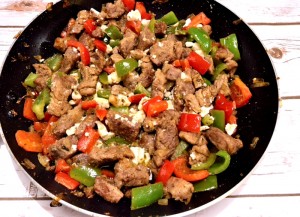 4 medium pork shoulder steaks.
2-3 shallots chopped.
1 red pepper chopped.
1 green pepper chopped.
2-3 garlic cloves finely chopped.
100 gr (3.5 oz) Feta cheese crumbled.
½ cup of extra virgin olive oil.
½ cup of white whine.
The juice of 2 lemons.
1 teaspoon of Dijon mustard.
1 tablespoon dried oregano.
Salt and ground pepper.
Cut the pork steaks in cubes. Place them on a tray and marinate them with the juice of the lemons, wine, olive oil, oregano, salt and pepper. Cover with cling film and let the meat marinate for a couple of hours in the fridge.
Warm up 2-3 tablespoons of olive oil in a large frying pan on medium heat. Use a paper towel to roughly dry the pork. Add the meat in the frying pan and cook until it starts getting brown.
Add the peppers, garlic and shallots and cook them until softened. Give it a stir from time to time.
Add ½ cup of the remaining marinade together with the mustard in the pan. Season with salt and pepper to taste. Stir well and let it cook until most of the juices have reduced.
When almost ready, add the Feta crumbs, stir well and cook for 1-2 minutes.
Serve with home made fries and nice bread.
Bon appetit!
Recipe by
SocraticFood
at http://socraticfood.com/greek-style-fried-pork-bites-with-peppers-and-feta-cheese/