Greek Bean Soup with Carrots and Celery (Fasolada)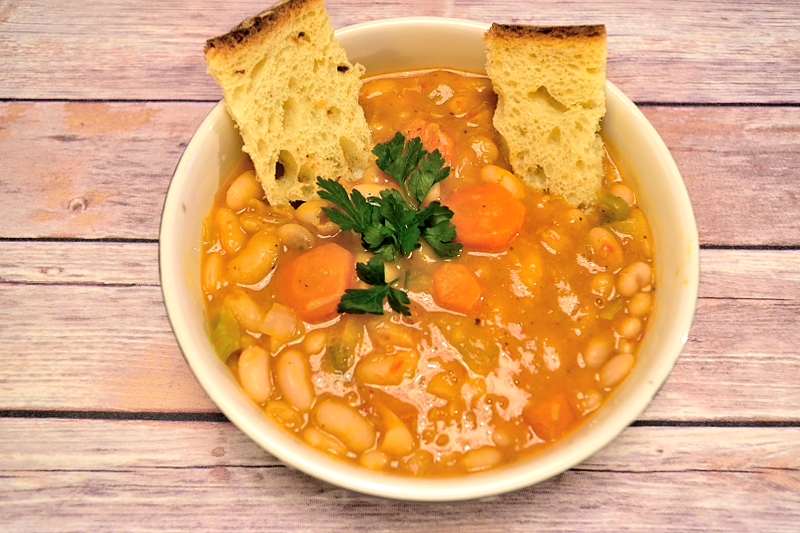 500 gr (17 oz) navy or cannellini beans.
1 large onion coarsely chopped.
3 carrots coarsely sliced.
2 celery sticks sliced.
2-3 large sweet and ripe tomatoes.
2 teaspoons of concentrated tomato paste.
½ cup of extra virgin olive oil.
Salt and ground pepper.
The night before, place the beans in a large bowl with plenty of water and let them soak overnight.
In a large pot, boil the beans in plenty of water for ~ 15 minutes. Drain them, use fresh water and start boiling them again.
After ~ 20 minutes, add the onion, celery and carrots. Keep boiling on medium heat. Give it a stir from time to time.
Use a blender and make a smooth tomato paste with the fresh tomatoes and the concentrated paste.
After ~ 15 minutes, add the tomato paste and give it a stir.
Depending on your taste, you may need to add some hot water if you think that there will not be enough of juice for your soup.
Try the beans to check if they have softened enough. When that's the case, add the olive oil. Stir well and keep boiling.
minutes before you finish cooking (meaning the beans are melting in your mouth), season with salt and pepper to taste.
Serve hot, with lots of nice bread and olives.
Bon appetit!
Recipe by
SocraticFood
at http://socraticfood.com/greek-bean-soup-with-carrots-and-celery-fasolada/