Vegetarian Lasagna with Homemade Eggplant Bechamel Sauce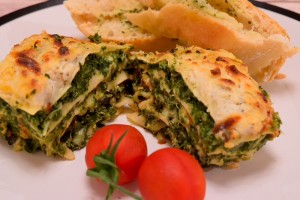 ~ 20 lasagna sheets (ready to bake).
1.5 kg (53 oz) frozen spinach.
2 large leeks sliced.
1 large onion chopped
A bunch of fresh dill chopped.
3-4 large ripe tomatoes.
500 ml (17 fl oz) tomato passata.
2-3 garlic cloves.
A bunch of flat-leaf parsley.
A pinch of dried oregano.
500 gr (17 oz) mushrooms sliced.
A handful of pine nuts.
2 tablespoons of butter.
2-3 tablespoons of all-purpose flour.
1 lt (34 fl oz) whole milk.
2 eggs.
5 large eggplants.
2 fresh mozzarella balls.
400 gr (14 oz) shredded mozzarella.
250 gr (9 oz) ricotta cheese.
½ teaspoon of ground nutmeg.
~ ½ cup of extra-virgin olive oil.
Salt and ground pepper.
Preheat the oven at 200 degrees Celsius (390 F) or even higher. Pierce the eggplants with a fork to create small holes to let the steam out. Lay them on a tray covered with greaseproof paper and cook them for ~ 1 hour until they start getting burnt on the outside. Remove from the oven and let them cool down.
Heat up 3-4 tablespoons of olive oil in a large frying pan (or pot preferably) on medium heat. Add the leek and onion and cook until softened. Drain the spinach well and add it to the pot. Stir well and let it cook for ~ 15 minutes while stirring occasionally. Season slightly with salt and pepper. Add the dill and cook for another 5 minutes. Turn the heat off and let it cool down. If you see any excess liquids, remove them with a spoon. When cold enough, add the ricotta cheese and stir well.
Open the eggplants and remove their flesh using a spoon. Cut it in small pieces and place them in a bowl.
Add 2-3 tablespoons of olive oil in a frying pan on medium heat. Add the mushrooms, season with salt and pepper and sauté them until golden brown. Remove from heat and set aside.
In a small pan on medium-high heat, toast the pine nuts for 2-3 minutes until golden brown. Set aside.
Add the tomatoes, garlic and parsley to a blender and make a smooth paste. Warm up 2-3 tablespoons of olive oil in a saucepan on medium heat. Add the fresh tomatoes, the passata, oregano, salt and pepper and cook for ~ 15 minutes while stirring from time to time until the sauce thickens.
Prepare the bechamel: Drain all the excess liquid from the eggplants. Add the butter in a saucepan and warm it up on low heat. When the butter has melted, add the flour and use a stainless steel whisker to combine them together. Stir aggressively to make a nice roux. While stirring, add the milk and the two whisked eggs. Keep stirring slowly until the sauce thickens. That may take ~ 10 minutes. Season with salt and pepper. When almost ready, add the eggplant, ~ 100 gr ( 3.5 oz) of shredded mozzarella and the nutmeg. It is important that the sauce never comes to boil. When the sauce is thick enough, turn the heat off and set aside.
Preheat the oven at 180 degrees Celsius (360 F).
Use a bit of the tomato sauce and spread it on your lasagna baking tray. Place the first layer of lasagna sheets to cover the bottom. Add some of the spinach-ricotta mixture and spread it to create an even layer. Add ⅓ of the tomato sauce, pieces of the fresh mozzarella and half of the mushrooms. You may add any other cheese of your choice if you like it cheesier. Add some of the pine nuts. Add 3-4 tablespoons of the eggplant bechamel and spread evenly.
Cover with another layer of lasagna sheets and repeat the previous step. Depending on how big is your tray, you may make two or three layers. When finished, cover the top with lasagna sheets, pour in the rest of the bechamel sauce and top it with grated mozzarella. Spread the sauce well and bake it for ~ 40 minutes until the top has become brown-ish.
Enjoy with some nice Italian wine and bread and...bon appetit!
Recipe by
SocraticFood
at http://socraticfood.com/vegetarian-lasagna-homemade-eggplant-bechamel-sauce/