Red Pepper Pesto Meatballs in a Mean Tomato Sauce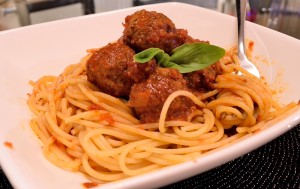 250 gr (9 oz) ground pork.
250 gr (9 oz) ground veal or beef.
2 onions finely chopped.
6 garlic cloves.
Small bunch of fresh thyme.
2 tablespoons dried oregano.
1 teaspoon ground cumin.
2 teaspoons paprika.
3 red bell peppers.
A handful of pine nuts.
3-4 ripe and sweet tomatoes.
A small bunch of flat-leaf parsley.
500 ml (2 cups) tomato passata.
1 cup extra-virgin olive oil.
Salt and ground pepper.
Preheat the oven at 190 degrees Celsius (375 F). Place a piece of greaseproof paper on a tray and add the red peppers. Cook them until they start getting brown, about 20 minutes or more.
Let the peppers cool down and remove the skin. Add them into the blender together with 4 garlic cloves (less if you are not a big fan of garlic), the pine nuts and 2 tablespoons of olive oil. Create a smooth paste and set aside.
Into a large bowl, add the meat together with the red pepper pesto, 1 finely-chopped onion, fresh thyme, 1 tablespoon of oregano, cumin and 1 teaspoon of paprika. Season with salt and pepper to your liking and knead for a few minutes to mix all the ingredients well. Cover with cling film and put it in the fridge for ~ 1 hour.
Use the meat mixture and make small and round balls. Heat ½ cup of olive oil (maybe more) in a large frying pan on medium heat. Fry the meatballs until they start getting brown, not too much. They will continue the cooking in the sauce later. Place them on a plate covered with kitchen towel to absorb the excess oil and set aside.
Add the fresh tomatoes, 2-3 garlic cloves and the parsley in the blender and make a nice paste.
Heat 4-5 tablespoons of olive oil in a large frying pan on medium heat. Add the onion and fry it until it softens. Add the fresh tomato paste, 1 tablespoon of oregano, 1 teaspoon of paprika and the tomato passata. Season with salt and pepper to taste. Give it a stir and let it cook on low heat for ~ 15 minutes. Stir it from time to time. To save time, you may make the sauce while the meat mixture is in the fridge.
Add the meatballs into the pan with the sauce, lower the heat to minimum and let them cook altogether for 30-45 minutes.
Serve it with spaghetti "al dente" with lots of grated parmesan.
Bon appetit!
Recipe by
SocraticFood
at http://socraticfood.com/red-pepper-pesto-meatballs-in-a-mean-tomato-sauce/