Chili Con Carne Bombs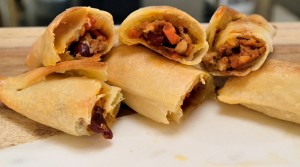 500 gr (18 oz) lean ground beef.
2-3 juicy and ripe tomatoes.
1 onion chopped.
1 carrot chopped.
1 celery stick chopped.
2 red chili's finely chopped.
2 garlic cloves finely chopped.
1 red bell pepper chopped.
1 tin can of cooked kidney beans.
1 tablespoon (or more) of dried oregano.
1 teaspoon of ground cumin.
1 teaspoon chili powder.
½ teaspoon ground cinnamon.
500 ml (17 fl oz) tomato passata.
3-4 tablespoons extra-virgin olive oil.
Salt and ground pepper.
Grated Cheddar cheese.
Ready-made dough for pizza base.
Add the olive oil in a large frying pan and brown the ground beef on high heat. Add the spices and season with salt and (not much) pepper.
Add the onion (keep aside ~ 20% for the bombs) and garlic and let it cook for 3-4 minutes on medium heat. Give it a stir from time to time. Add the carrots, pepper and celery. Keep cooking for a few more minutes.
Chop the tomatoes with a blender and add the smooth paste in the pan. Add the passata and bring it to boil. Lower the heat to minimum and let it cook for ~ 1 hour until you have a thick and consistent sauce.
minutes before you finish cooking the beef, add the kidney beans and stir well.
Preheat the oven to 190 degrees Celsius (375 F).
Roll the pizza dough to create a thin base. Cut it in small pieces, around 3x3 inches. Add a spoonful of the meat mixture and top it with some chopped onion and Cheddar cheese. Fold it to create an envelop or "bomb" and place it on a tray covered with greaseproof paper.
Cook in the oven for ~ 30 minutes until golden brown.
Bon appetit!