Easy Homemade Lamb Gyros (Doner Kebab)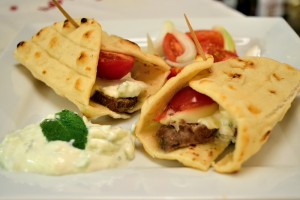 1 kg (2.2 lb) ground lamb.
1 large onion chopped.
2 teaspoons of ground cumin.
3 garlic cloves finely chopped.
4-5 tablespoons of dried oregano.
Salt and ground pepper.
Add all of the ingredients in a large bowl and knead well for 3-4 minutes. Cover with cling film and keep in the fridge for a couple of hours.
Preheat the oven at 170 Celsius (340 F).
Place a large piece of greaseproof paper on your working bench. Use the meat mixture and create a long loaf. 1 kg of meat will give you probably two loafs. Try to make them relatively thin and long. Cover the loaf with the paper and use some aluminium foil to seal it.
Place the loafs on a baking tray and add 3-4 cups of hot water.
Cook for 2 hours while adding some hot water from time to time.
Carefully open the foils and slice the loafs. If they seem uncooked, place some slices on a greaseproof paper and cook them in the oven for ~ 15 minutes at 180 Celsius (360 F). However, that may make your doner a bit dry.
Serve them wrapped in warm pitta bread together with tzatziki, tomatoes and sliced onion.
Bon appetit!
Recipe by
SocraticFood
at http://socraticfood.com/easy-homemade-lamb-gyros-doner-kebab/