Fried Feta Envelopes with Honey and Sesame Seeds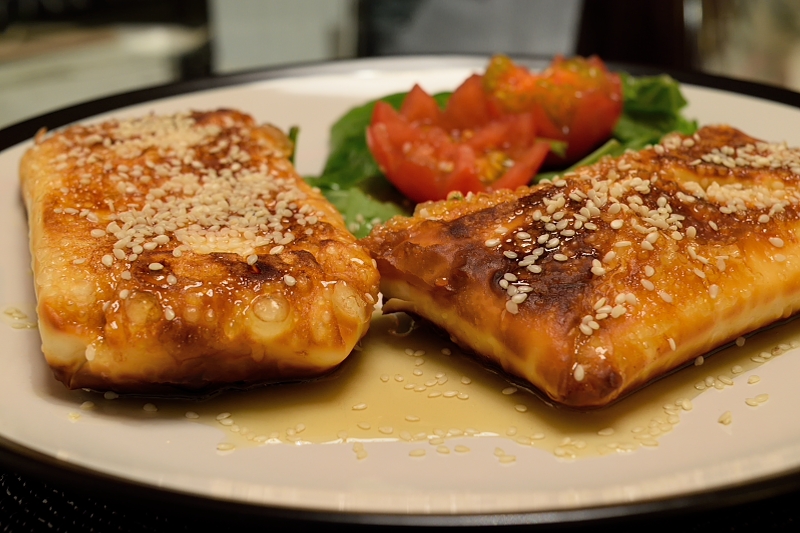 250 gr (9 oz) Feta cheese
4 filo sheets.
4 tablespoons of honey.
Sesame seeds.
1 egg.
1 cup of sunflower oil for frying.
Cut the Feta in 2 rectangular pieces, around 1 cm (½ inch) thick.
Whisk the egg in a small bowl.
Use two filo sheets one on top of the other and place one Feta piece close to the top. Fold the sheets to make an envelope and cut the excess parts. Repeat for the second piece.
In order to seal the filo envelopes, brush some of the egg on the edges of the envelope.
On low heat, warm up the honey in a small saucepan. Add ½ cup of water and stir well. Cook for 2-3 minutes and set aside.
Heat up the oil in a large frying pan on high heat. When the oil is hot enough, add one Feta envelope and fry each side for about 2 minutes until golden brown. Repeat for the other one.
Place the envelopes on a plate, add the honey and sesame seeds on top. If you like, you may toss the sesame seeds in a heated pan for a few seconds to add some colour.
Serve hot and...bon appetit!
Recipe by
SocraticFood
at http://socraticfood.com/fried-feta-envelopes-with-honey-and-sesame-seeds/