One-Pot Exotic Pasta with Chicken and Sausages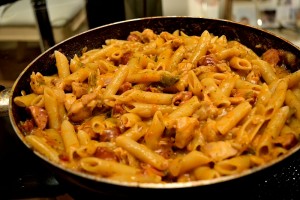 400 gr (14 oz) penne.
500 gr (17 oz) skinless chicken thighs.
2 medium spicy sausages.
1 green red pepper chopped.
1 yellow red pepper chopped.
1 large onion chopped.
2-3 garlic cloves chopped.
1 red chilli pepper finely chopped.
1 tablespoon of dried oregano.
1 teaspoon paprika.
1 teaspoon of Cayenne pepper.
1 ball of fresh mozzarella cut in thick pieces.
100 gr (3.5 oz) of Monterey Jack cheese.
3-4 cups of chicken broth (maybe a little more).
4 tablespoons of extra-virgin olive oil.
Grated parmesan.
Salt and ground pepper.
Cut the chicken and sausages in small pieces. Heat up the olive oil in a large frying pan on medium heat. Add the chicken and cook until it starts getting brown.
Add the sausages, season with paprika, oregano, salt and Cayenne pepper and cook for another 3-4 minutes.
Add the onion, peppers and garlic and let them cook until the vegetables start getting soft. Give it a stir from time to time.
Warm up the chicken broth and pour one cup into the pan. When it starts boiling add the penne, arrange well and make sure that they are covered with juices. If not, add as much broth as needed.
Taste the pasta to check if they are cooked according to your liking. If not, add some more hot broth.
When almost ready, add the mozzarella and pieces of Monterey Jack and stir well. Cook until the cheeses melt (1-2 minutes).
Remove from the heat and serve hot with grated parmesan and chopped spring onions.
Bon appetit!
Recipe by
SocraticFood
at http://socraticfood.com/one-pot-exotic-pasta-with-chicken-and-sausages/