Greek Duck Legs in Spicy Tomato Sauce (Pastitsada)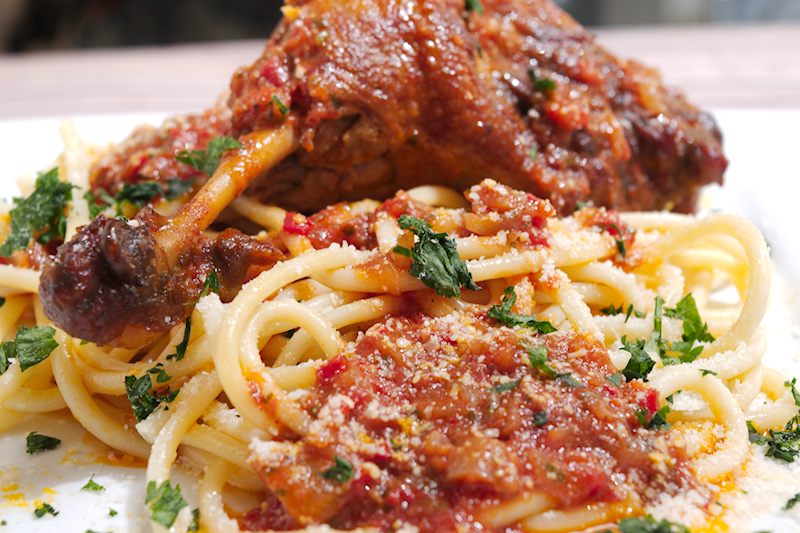 6 duck legs with skin on.
750 gr (26 oz) spaghetti or bucatini.
2 medium yellow onions finely chopped.
3-4 large sweet and ripe tomatoes.
A small bunch of flat-leaf parsley.
3 garlic cloves finely chopped.
500 ml (17 fl oz) tomato passata or tin tomatoes.
½ teaspoon ground cumin.
½ teaspoon ground nutmeg.
½ teaspoon ground cinnamon.
1 teaspoon paprika.
3 cloves.
2 bay leafs.
1 cup of dry red wine.
1½ cup extra-virgin olive oil.
Salt and ground pepper.
Wash the duck legs and dry them very well with a kitchen towel.
Heat up the olive oil in a deep pot or Dutch oven at medium-high heat. When hot, add the duck legs (start with with the skin facing the bottom first) and fry them until they get brown in both sides. Season slightly with salt and pepper. Remove from the pot and set aside. Depending on the size of your pot you may need to fry them in two batches.
Add the fresh tomatoes and parsley in a food blender and make a nice paste.
Reduce the heat to medium, add the onion and fry it until it starts getting brow. Use a wooden spoon and scratch gently the bottom of the pot to release the nice flavors. When almost done, add the garlic and cook for ~ 30 more seconds.
Add the fried duck legs in the pot and give it a gentle stir. Add the cumin, nutmeg, cinnamon, paprika and season with salt and pepper. Add the wine and bring it to boil. Let it cook for ~ 2 minutes and add the fresh tomato paste, passata, cloves and bay leafs. Make sure the duck legs are almost covered with the juices. Reduce the heat heat to minimum, cover with a lid and let it cook for ~ 90 minutes.
Pastitsada is ready when you are left with a thick sauce and the meat falls from the bone. If you want a nice brown color, you can place the pot in the oven without the lid at 180 Celsius (360 F) for ~ 20 minutes.
Boil the pasta according to the instructions on the box (preferably "al dente"). Before draining, save one cup of the pasta water. Drain the pasta and add ½ cup of extra-virgin olive oil in the pot you boiled the pasta. Heat up the oil on low heat. Add the pasta to the pot and give it a good stir. Add some of the reserved pasta water and stir well so you can have nice, oily and creamy spaghetti.
Serve the Pastitsada on top of the pasta with lots of sauce and Parmesan cheese.
Bon appetit!
Recipe by
SocraticFood
at http://socraticfood.com/greek-duck-legs-in-spicy-tomato-sauce-pastitsada/