Lentils with Smoked Sausage and Spinach Stew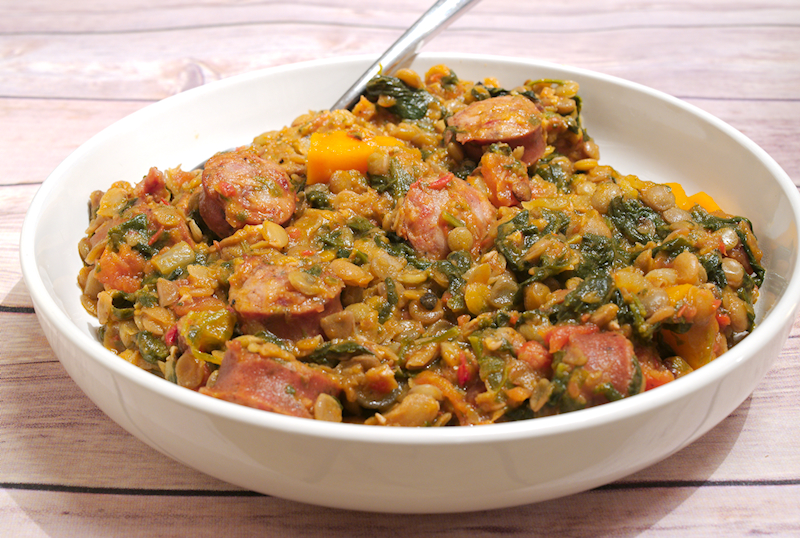 1 ½ cup brown lentils.
300 gr (10 oz) spicy smoked sausage.
300 gr (10 oz) fresh spinach.
1 ½ yellow onion chopped.
2 carrots sliced.
1 celery stick sliced.
2-3 garlic cloves chopped.
1 red chili pepper chopped.
2-3 ripe and sweet tomatoes.
200 ml (7 fl oz) chopped tin tomatoes.
A small bunch of flat-leaf parsley.
1 cup of beef stock.
½ cup of extra-virgin olive oil (maybe a bit more).
Salt and ground pepper.
Boil the lentils in a pot with plenty of water for ~ 15 minutes. Drain and set aside.
Wash the spinach and chop it coarsely. Add 2-3 tablespoons of olive oil in a deep pot on medium heat. Cook the spinach for ~ 10 minutes. Drain it and keep aside.
Wash the pot from the spinach juices. Cut the sausages in pieces ~ 1 inch thick. Add 1-2 tablespoons of olive oil and fry the sausages on medium heat until golden brown. Place the cooked sausages on a plate covered with kitchen towel and set aside.
Add the remaining olive oil in the pot and add the onions on medium heat. Scratch gently the bottom with a wooden spoon to release the aromas from the sausages. After ~ 5 minutes, add the carrots, celery and chili pepper. Season with salt and pepper. Cook until the vegetables start getting soft.
Add the fresh tomatoes and parsley in a food processor and make a nice paste.
Add the garlic and cook for ~ 1 minute. Give it a good stir. Add the cooked sausages, fresh tomato paste from the processor, chopped tomatoes from the tin and the beef broth. Season with salt and pepper and give it a good stir. Bring it to boil and let it cook for ~ 10 minutes.
Add the lentils back to the pot and stir well. If the juices don't cover the lentils, add some hot water. Set the heat to low-medium.
When the vegetables are almost cooked (~ 30 minutes), add the spinach and stir well. Cook for another 10 minutes until lentils and vegetables (especially carrots) are soft and melting in your mouth.
Serve the lentils warm with nice bread and Feta cheese.
Bon appetit!
Recipe by
SocraticFood
at http://socraticfood.com/lentils-with-smoked-sausage-and-spinach-stew/