Stuffed Eggplants and Peppers with Rice and Herbs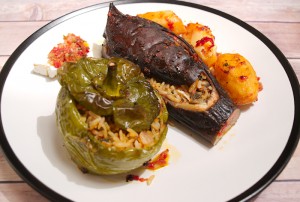 6 eggplants.
2 green bell peppers.
1 carrot shredded.
1 ½ yellow onion finely chopped.
1 ½ cup of long grain rice.
2 garlic cloves.
5-6 medium sweet and juicy tomatoes.
300 ml (10 fl oz) tomato passata or tinned tomatoes.
1 cup of extra virgin olive oil.
A small bunch of fresh mint finely chopped.
A generous bunch of flat leaf parsley finely chopped.
3-4 potatoes cut in big chunks.
Salt and ground pepper.
Wash the eggplants and peppers. Take one eggplant and cut a thin piece from the top lengthwise, making sure you don't reach the edges (bottom and top). Use a knife or/and a spoon and remove the flash from the eggplant making sure you don't break the walls. Keep a handful from the eggplant flesh for the mixture. Alternatively, you can cut a piece from the top and empty the flesh until you reach the bottom. For the peppers, make a circular cut with a knife close to the top and remove it. Cut all the seeds and keep the top as you are going to use it as a lid.
Add the half of the fresh tomatoes and the garlic in a food processor and create a nice paste.
Chop finely the handful of eggplant flesh you kept. Add half of the olive oil in a frying pan on medium heat. Add the onion and cook until it starts getting soft. Add the eggplant flesh and carrot and cook for another 1-2 minutes. Add the rice, stir well and cook for another minute. Add the tomato paste from the processor, ⅓ of the passata, parsley, mint and season generously with salt and pepper. Stir well, bring it to boil and remove from the heat.
Add the remaining tomatoes in a the food processor and make another paste.
Use a spoon and start filling the eggplants the peppers. Do not fill them until the top as the rice will expand during cooking. Place the stuffed vegetables in a deep baking tray and cover them with their lids.
Preheat the oven at 180 degrees Celsius (360 F)
Add the potatoes in the tray and pour in the olive oil, fresh tomato paste and passata. If you think there isn't enough oil, add some more. It must be an oily dish. Add a cup of hot water. Season with salt and pepper.
Cover the tray with kitchen foil and let it cook in the oven for ~ 90 minutes. Check from time to time to see if it needs some more liquids (water). Uncover the tray and cook for another 15 minutes to get a nice brown color.
Serve the stuffed vegetables warm with a piece of Feta cheese on the side.
Bon appetit!
Recipe by
SocraticFood
at http://socraticfood.com/stuffed-eggplants-and-peppers-with-rice-and-herbs/