Italian Chicken Cacciatore Stew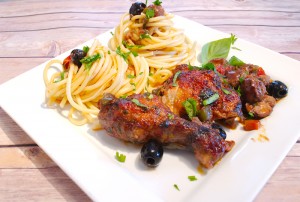 4 chicken thighs and 4 drumsticks with the skin on.
200 gr of mushrooms cut in half.
1 ½ onion chopped.
1 green bell pepper chopped.
1 carrot cut in cubes.
4 garlic cloves finely chopped.
2 ripe and sweet tomatoes coarsely cut.
250 ml (9 fl oz) tomato passata.
A bunch of flat leaf parsley finely chopped.
A small bunch of fresh basil finely chopped.
15-20 pitted olives.
½ bottle of Chianti wine.
1 tablespoon of dried oregano.
1 teaspoon paprika.
1 cup of extra-virgin olive oil.
½ cup all-purpose flour.
Salt and ground pepper.
Wash the chicken pieces, dry them with a kitchen towel and season them with salt and pepper.
Add the olive oil in a deep pot (or Dutch oven) that can go into the oven. Heat up the oil on a medium-high heat. Coat the chicken pieces with flour and fry them starting with the side with the skin on. Cook until nicely brown in both sides and set aside.
Use a wooden spoon and scratch the bottom of the pot to release the sticky bits. Set the heat to medium and add the onion, green pepper and carrots. Add the oregano, paprika and season with salt and pepper. Cook until they start getting brown.
Preheat the oven at 170 degrees Celsius (340 F)
Add the garlic and cook for another minute or two while stirring. Add half of the wine and bring it to boil. Add the parsley, basil, fresh tomatoes, olives and passata, season with salt and pepper and give it a good stir. Place the cooked chicken pieces and add the remaining wine. The juices must cover the chicken pieces. If not, add some hot water.
Cover the pot with a lid and let it slowly-cook in the oven for ~ 90 minutes. Remove the lid and let it cook for another 15 minutes to get a nice brown color.
Serve Chicken Cacciatore hot with rice or Bucatini pasta.
Bon appetit!
Recipe by
SocraticFood
at http://socraticfood.com/italian-chicken-cacciatore-stew-in-wine-sauce/