Moroccan Lamb Cigars with Harissa Dip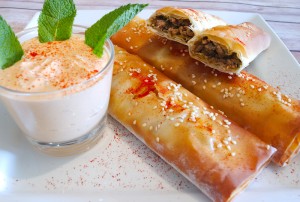 500 gr (17 oz) ground lamb.
1 yellow onion finely chopped.
2 garlic cloves finely chopped.
1 ½ teaspoons of ground cumin.
½ teaspoon ground nutmeg.
½ teaspoon ground cinnamon.
1 tablespoon tomato paste.
2 tablespoons extra virgin olive oil.
1 egg.
7 filo sheets.
1 cup of Greek yoghurt.
1 teaspoons Harissa paste.
Juice from one lemon.
Sesame seeds for topping.
Salt and ground pepper.
Heat up the olive oil in a large frying pan on medium heat. Add the onion and cook until it gets soft and translucent. Add the cumin, nutmeg, cinnamon and garlic and cook for ~ 30 seconds while stirring.
Add the mince lamb and season it with salt and pepper to taste. Cook the meat until it gets starts getting brown. Add the tomato paste, give it a good stir, lower the heat to low-medium and cook until most of the juices have gone.
Preheat the oven at 180 degrees Celsius (360 F).
Add some olive oil in a small bowl and beat the egg in another bowl. Lay one of the filo sheets in a flat surface. Use a kitchen brush and spread some olive oil along the sheet. Spread some of the egg along the edges of the sheet. Add 1-2 tablespoons of the lamb mixture close to the top of the filo sheet, leaving ~ 1 inch spacing from the edges. Fold the two long edges as shown in the photo and roll the cigar making sure it's relatively tight and sealed. Place the cigar on a tray covered with parchment. Repeat with the other filo sheets.
Spread the remaining oil and egg on top of your cigars and sprinkle some sesame seeds on top.
Bake the lamb cigars for ~ 30 minutes until golden brown.
For the yoghurt-Harissa dip: Add the yoghurt, Harissa paste, lemon juice and 1 tablespoon of olive oil in a bowl. Add some salt and mix well. Try it to see if it needs any corrections (more Harissa paste, more salt etc), according to your liking.
Bon appetit!
Recipe by
SocraticFood
at http://socraticfood.com/moroccan-lamb-cigars-with-harissa-dip/