Smoked Sausage with Eggplant and Herbs Pie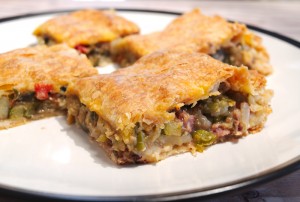 2 eggplants cut in cubes.
1 zucchini cut in cubes.
2 green peppers chopped.
2 potatoes cut in cubes.
1 ½ onion coarsely chopped.
2 tomatoes cut in cubes.
200 gr (7 oz) smoked sausage cut in cubes.
½ cup of flat leaf parsley finely chopped.
150 gr (5 oz) Feta cheese crumbled.
2 puff pastry sheets.
½ cup of extra virgin olive oil.
1 tablespoon of dried oregano.
Salt and ground pepper.
Warm up the olive oil in a large and deep pot on medium-high heat. Add the potatoes and fry them until they start getting soft.
Add the eggplant, zucchini, peppers and onion. Add the oregano and season with salt and pepper. Lower the heat to medium. Cook them for ~ 10 minutes until soft while stirring occasionally.
Add the tomatoes, the sausage and parsley. Give it a good stir and let it cook for another 10 minutes until most of the juices are absorbed.
Remove from the heat, add the Feta and give it a good stir. Let it cool down for at least 30 minutes. It should be relatively cold when you lay it on top of the pastry.
Preheat the oven at 180 degrees Celsius (360 F).
Use a medium-large tray and spread some olive oil on the bottom and side walls using a kitchen brush. Place one of the pastry sheets on the bottom, making sure it covers part of the walls. Add the eggplant and sausage mixture and add the second pastry sheet on the top. Fold the sheets nicely so the juices don't escape from the sides during cooking. Use your kitchen brush and spread some olive oil on the top. Cut the pie in squares making sure you don't reach the bottom with the knife.
Bake the pie for ~ 40 minutes until golden brown. Make sure you let it rest in room temperature for ~ 20 minutes before you cut it.
Bon appetit!
Recipe by
SocraticFood
at http://socraticfood.com/smoked-sausage-with-eggplant-and-herbs-pie/