Spicy Chicken and Bean Enchiladas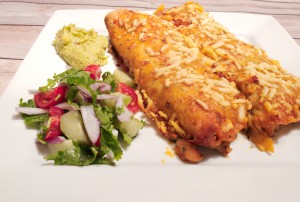 6 skinless chicken thighs cut in small pieces.
8 corn tortillas.
2 cups cooked or canned beans.
2 cups Enchilada sauce.
1 tablespoon dried oregano.
1 teaspoon paprika.
1 teaspoon chili powder.
1 teaspoon Cajun spice mix.
200 gr (7 oz) shredded cheese (Cheddar, Monterey Jack etc).
A small bunch of fresh coriander finely chopped.
3-4 tablespoons of extra-virgin olive oil.
Salt and ground pepper.
Add the olive oil in a large frying pan on medium heat. Add the chicken pieces and start frying them. Season them with the paprika, oregano, Cajun mix, chili powder, salt and pepper. Cook until it starts getting golden brown.
-3 minutes before you remove from the heat, add the coriander and stir well. Try some of the chicken to see if it needs a bit more seasoning.
Preheat the oven at 180 degrees Celsius (360 F).
Place one tortilla on the working bench and spread some of the Enchilada sauce. Depending on the size of the tortilla, add a tablespoon of beans, a few pieces of chicken and top it with some shredded cheese. Roll the tortilla and place it in a large tray.
Repeat with the rest of tortillas. At the end, pour the remaining of the Enchilada sauce in the tray and top it with the rest of the cheese.
Bake for ~ 20 minutes until the cheese has melted and the tortillas start getting brown.
Enjoy your chicken and beans Enchiladas with Pico de Gallo or rice.
Bon appetit!
Recipe by
SocraticFood
at http://socraticfood.com/spicy-chicken-and-bean-enchiladas/