Spicy Turkey Pie with Peppers and Herbs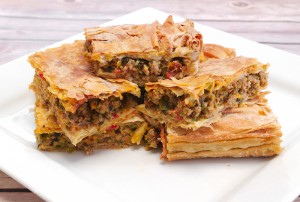 1 kg (35 oz) mince turkey thigh.
6 filo sheets.
1 red pepper diced.
1 green pepper diced.
2 medium onions finely chopped.
1 carrot grated.
A bunch of flat-leaf parsley chopped.
A small bunch of fresh dill chopped.
3-4 medium tomatoes cut in cubes.
3-4 sundried tomatoes chopped.
½ cup of white wine.
1 egg.
100 gr (3.5 oz) Feta cheese crumbled.
1 ½ teaspoon chili powder.
A generous pinch of of dried oregano.
A pinch of dried thyme.
½ cup of extra-virgin olive oil.
Salt and ground pepper.
Add 3-4 tablespoons of olive oil in a large frying pan or pot on medium heat. Add the onions and pepper and cook for 2-3 minutes until they start getting soft. Add the mince turkey, the oregano, thyme, chili pepper and season with salt and pepper. Give a good stir and brown well the turkey.
When the juices start to reduce, add the wine and cook for a few minutes until the alcohol evaporates.
Add the carrots, parsley, dill and sundried tomatoes, stir well and let it cook for ~ 10 minutes. Give it a stir occasionally and try to see if it needs more seasoning. Remove from the heat and let the mixture cool for ~ 20 minutes.
When the mixture has cooled down, add the Feta and egg and stir well.
Preheat the oven at 180 degrees Celsius (360F).
Cover the bottom and walls of a medium-large tray with olive oil using a kitchen brush. Lay one filo sheet on the bottom and spread some more olive oil. Lay the second sheet, spread some more olive oil and add the third sheet. Add the turkey mixture in the tray and spread it to have an even surface. Add a filo sheet on top, spread some olive oil and repeat with the rest of the sheets. Fold the sheets to make sure the mixture does not leak during cooking. Spread some more olive oil on top of the pie and some water using your hand. Use a knife and cut the pieces you are going to serve the pie making sure that you don't reach the bottom.
Put the turkey pie in the oven and bake for ~ 45 minutes until golden brown.
Before you cut it, let it rest for 10-15 minutes.
Bon appetit!
Recipe by
SocraticFood
at http://socraticfood.com/spicy-turkey-pie-with-peppers-and-herbs/