Stuffed Squid with Rice and Herbs (Kalamaria Gemista)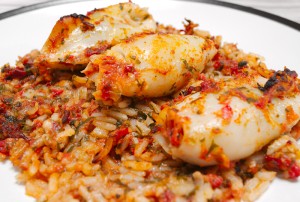 12 medium squids.
½ cup of long grain rice.
1 large onion finely chopped.
5-6 spring onions finely chopped.
A big bunch of flat-leaf parsley.
A small bunch of fresh dill.
3-4 sweet and ripe tomatoes.
2 garlic cloves.
½ cup of tomato Passata.
1 cup of white wine.
½ cup of extra virgin olive oil.
Salt and ground pepper.
Clean and wash the squids. If they come with their tentacles, chop them and set apart.
Add the fresh tomatoes, half of the parsley and garlic in a food blender and make a smooth paste.
Add half of the olive oil in a large frying pan on medium heat. Add the onion, spring onion and the chopped tentacles (if any) and cook for 3-4 minutes until they start to soften. Stir occasionally. Add the rice, give it a good stir and cook for a minute or so. Add ½ cup of the wine, give it a good stir and let the alcohol evaporate. Chop finely the dill and the rest of the parsley. Add half of the tomato paste from the blender, half of the passata, the rest of the parsley and dill and season with salt and pepper. Let it cook for 2-3 minutes and remove from the heat.
Preheat the oven at 180 degrees Celsius (360 F).
Use a teaspoon and fill one squid with the mixture from the pan. You should not fill it completely as the rice will expand during cooking. Use a toothpick to seal the opening of the squid so that the stuffing will not come out during the cooking process. Place the stuffed squid on a medium-large pan and repeat for the others.
Add the remaining stuffing from the pan to the tray and season with salt and pepper. Pour in the rest of the tomato sauce, Passata, white wine and hot water so the squids are almost covered.
Cover the tray and let it cook for ~ 40 minutes in the oven. Uncover the tray and let it cook for another ~ 20 minutes until the squids start getting brown.
Bon appetit!
Recipe by
SocraticFood
at http://socraticfood.com/stuffed-squid-with-rice-and-herbs-kalamaria-gemista/