Black Eyed Beans Casserole with Sausage and Spinach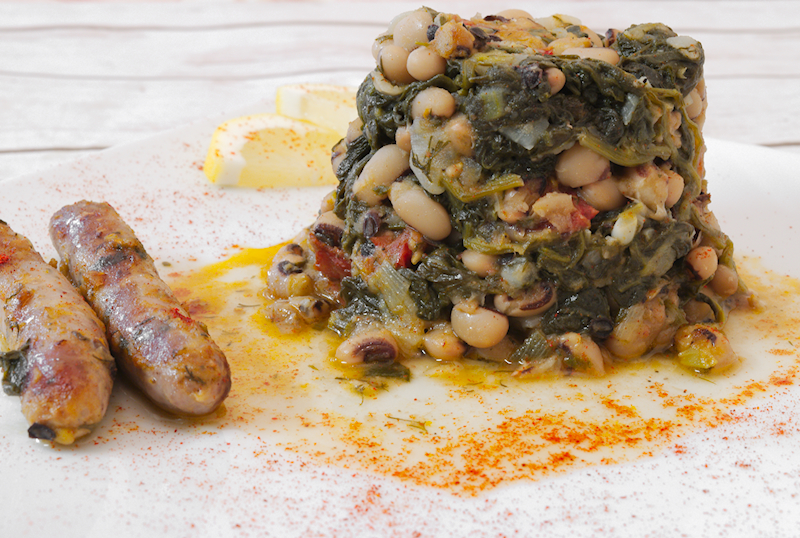 300 gr (10 oz) black eye beans.
8 Chipolata sausages.
300 gr (10 oz) fresh baby spinach.
2 medium onions chopped.
6-7 spring onions chopped.
A small bunch of fresh dill chopped.
A small bunch of flat-leaf parsley chopped.
2 large sweet and ripe tomatoes diced.
1 tablespoon of tomato paste.
½ cup (and a bit more) of extra-virgin olive oil.
1 ½ teaspoon of salt.
1 teaspoon ground pepper.
Add the beans in a large bowl with plenty of water and let them overnight to soak.
Add plenty of water in a large pot on high heat and bring it to boil. Add the beans and let them boil for 5-10 minutes. Drain the beans and add fresh water to the pot. Boil the beans for ~ 40 minutes until they soften and are eatable. Drain the beans and keep aside.
Add 3-4 tablespoons of olive oil in a large and deep pot on medium-high heat. Add the onion and spring onion and cook for a few minutes until soften. Add the spinach and give it a good stir. After a few minutes the spinach must have softened and reduced in size. Season with salt and pepper and add the dill and parsley. Give it a good stir, let it cook for 3-4 minutes and remove from the stove.. The juices from the spinach will still be there but you will use it to cook the beans in the tray.
Preheat the oven at 180 degrees Celsius (360 F).
Use a medium-large tray and add the contents of the pot (onions and spinach) to the bottom of the tray. Add the beans on top and season with salt and pepper. Squeeze in the Chipolatas and pour the olive oil together with the tomato paste diluted in one cup of hot water. Add the fresh tomato on the top.
Bake for ~ 45 minutes until the sausages are cooked. You may need to stir a bit your casserole if you see that the top becomes brown too soon.
Bon appetit!
Recipe by
SocraticFood
at http://socraticfood.com/black-eyed-beans-casserole-with-sausage-and-spinach/