Lamb Kofta Kabobs (Kebabs) in the Oven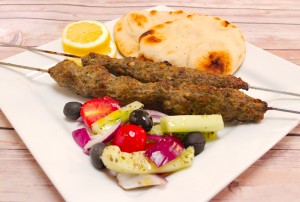 500 gr (17 oz) mince lamb.
2 onions.
A small bunch of fresh mint.
2-3 garlic cloves.
A bunch of flat-leaf parsley.
1 ½ teaspoon of ground cumin.
½ teaspoon ground nutmeg.
¼ teaspoon of ground cinnamon.
1 ½ teaspoons of salt.
1 teaspoon of ground pepper.
Add the onions, garlic, parsley and mint leaves in a food processor and chop them for a few seconds. You don't want a paste but rather the ingredients finely chopped.
Add the lamb, the contents from the food processor and the rest of the ingredients in a bowl. Knead well for a few minutes. Cover with cling film and let it rest in the fridge for a couple of hours.
Preheat the oven at 190 degrees Celsius (375 F).
Use a tray that is long enough to deposit the edges of the skewers on its opposite walls. Cover the tray with some aluminium foil. Pour some water in your hands a get some of the meat mixture. Work with it around the skewer to form a long but not very thick sausage-like shape. Place it on top of the tray and do the same with the rest of the meat.
Cook in the oven for ~ 30 minutes until your kofte kabobs get a nice color. You may need to turn them upside down at some point.
Enjoy with same warm pitta bread and tzatziki sauce.
Bon appetit!
Recipe by
SocraticFood
at http://socraticfood.com/lamb-kofta-kabobs-kebabs-in-the-oven/