Spanish Fried Peppers (Pimientos de Padron)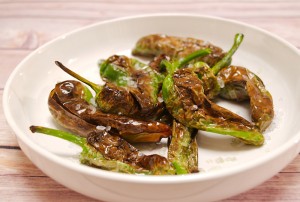 8-10 Padron peppers.
3-4 tablespoons extra-virgin olive oil.
Rock salt.
Wash the peppers with cold water and dry them using a kitchen towel.
Add the olive oil on a frying pan and heat it up on medium-high heat. Add the Padron peppers and fry them until their skin becomes dark and blisters start to form. This should take 1-2 minutes.
Place the peppers on a plate and sprinkle the rock salt on top.
Bon appetit!
Recipe by
SocraticFood
at http://socraticfood.com/spanish-fried-peppers-pimientos-de-padron-2/