Easy Greek Zucchini Fritters (Kolokithokeftedes)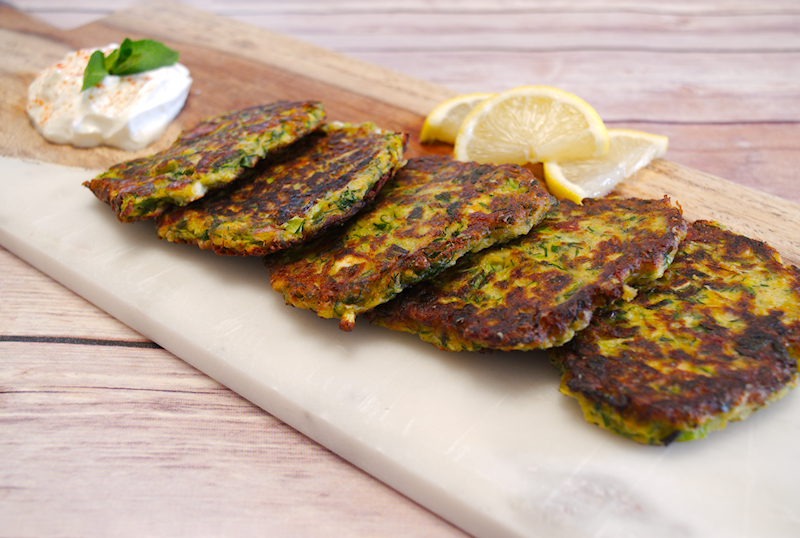 4 large zucchini.
4-5 spring onions finely chopped.
1 bunch of flat-leaf parsley finely chopped.
1 small bunch of fresh mint (the leaves) finely chopped.
1 bunch of dill finely chopped.
2 eggs.
1 teaspoon of paprika.
1 teaspoon of chili powder.
200 gr (7 oz) crumbled Feta cheese.
100 gr (3.5 oz) flour.
½ cup extra virgin olive oil.
Salt and ground pepper.
Use the coarse side of a grater and grate the zucchini. Use a cotton kitchen towel and place some of the grated zucchini in the middle. Close the towel and squeeze as hard as you can to get the juices out of the zucchini. It's very important that the zucchini are completely dry. Place the drained zucchini in a large bowl.
Add the spring onions, parsley, dill, mint, paprika, chili, eggs and Feta to the bowl. Season with salt and pepper (~ ½ tablespoon each) and give it a good stir. Add the flour and stir well.
Add 3-4 tablespoons of olive oil to a frying pan on medium heat. When the oil is hot, use a tablespoon and add some of the mixture in the pan. Press it lightly so your fritters become kind of flat. Cook for ~ 2 minutes on each side until golden brown.
Place the fritters on a tray covered with paper towel to absorb the excess oil.
Enjoy your zucchini fritters with some Greek yoghurt.
Bon appetit!
Recipe by
SocraticFood
at http://socraticfood.com/easy-greek-zucchini-fritters-kolokithokeftedes/