Greek Roasted Lamb (Kleftiko)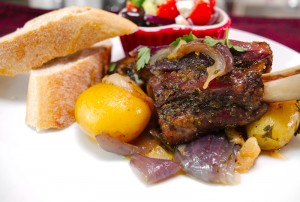 4 lamb shanks (~ 1200 gr, 42 oz).
Juice from 2 lemons.
1 onion roughly chopped.
10-12 baby potatoes with their skin on.
A small bunch of flat-leaf parsley roughly chopped.
4 garlic cloves roughly chopped.
2 tablespoons of dried oregano.
½ cup of extra virgin olive oil.
Salt and ground pepper.
Season the shanks with salt, pepper and oregano and let them absorb the flavors for ~ 2 hours before cooking.
Preheat the oven at 170 degrees Celsius (340 F).
Place the shanks in the center of a large piece of aluminium foil. Fold the edges so you create a kind of a "nest". Add the potatoes, onion, garlic, parsley and pour the lemon juice on top. Sprinkle some more salt and pepper if needed and pour the olive oil.
Fold the aluminium foil to cover the food. Use a second piece of foil (maybe a third) to make sure that your lamb and vegetables are fully covered. It is important that there is no opening as you don't want to lose the juices and steams.
Transfer the "packet" on a large tray and cook for ~ 3 hours.
Open the aluminium "packet" carefully. Use a spoon and spread some of the juices on top of the shanks. Cook for another 10 minutes to get a nice and crispy texture of the meat (optional).
Enjoy your Kleftiko hot with some nice Greek salad.
Bon apppetit!
Recipe by
SocraticFood
at http://socraticfood.com/greek-roasted-lamb-with-potatoes-kleftiko/