Spicy Moroccan Soup with Red Lentils and Vegetables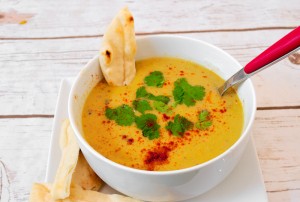 500 gr (17 oz) red lentils.
2 carrots peeled and finely chopped.
2 onions chopped.
2 celery sticks chopped.
1 red chili finely chopped.
2 potatoes cut in cubes.
4 garlic cloves finely chopped.
A small bunch of coriander finely chopped.
1 lt (35 fl oz) vegetable stock.
½ lt (17 fl oz) of water.
½ cup of extra virgin olive oil.
2 teaspoons ground cumin.
Juice from one lemon.
Salt and ground pepper.
Add the olive oil in a large pot on medium heat. When heated, cook the onion, potato, carrots and chili pepper for 3-4 minutes until they start getting soft. Add the garlic and cumin and cook for another minute. Give it a stir from time to time. Season with salt and a bit of pepper.
Add the red lentils and cook for another minute. Give it a few stirs.
Add the vegetable stock, coriander and water and bring it to boil. Lower the heat and let it boil for ~ 40 minutes until lentils are soft. Add a bit of water if you see that the juices are reduced before the vegetables are cooked. Add more salt and pepper if needed.
Purée the soup using a blender and enjoy it with nice bread or croutons.
Bon appetit!
Recipe by
SocraticFood
at http://socraticfood.com/spicy-moroccan-soup-with-red-lentils-and-vegetables/