Greek Eggplant Caviar Dip (Melitzanosalata)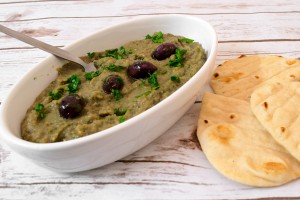 3 eggplants.
3-4 garlic cloves.
½ cup flat-leaf parsley.
1 tablespoon balsamic vinegar.
2 tablespoons extra-virgin olive oil.
1 teaspoon ground pepper.
1 teaspoon salt.
Preheat the oven at 180 degrees Celsius (360 F).
Cut the eggplants in half lengthwise. Spread some olive oil and place them on a tray covered with grease-proof paper with the flesh facing the bottom. Bake the eggplants for ~ 45 minutes until their skin starts getting wrinkled. Take them from the oven and let them cool down for ~ 30 minutes.
Remove the flesh from the eggplants and place it in a colander. Leave it for ~ 30 minutes to release its bitter juices.
Place the eggplant flesh, garlic, olive oil, parsley, vinegar, salt and pepper in a food processor and make a smooth paste.
Enjoy with some nice bread. Bon appetit!
Recipe by
SocraticFood
at http://socraticfood.com/greek-eggplant-caviar-dip-melitzanosalata/