Swedish Meatballs in a Creamy White Sauce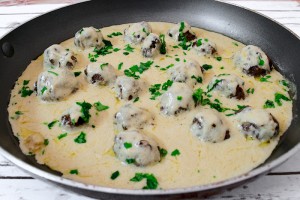 250 gr (9 oz) ground pork.
250 gr (9 oz) ground beef.
1 onion finely chopped.
½ cup of breadcrumbs.
⅓ cup of milk.
Small bunch of flat-leaf parsley finely chopped.
1 tablespoon dried oregano.
1 egg.
1 teaspoon ground pepper.
1 teaspoon salt.
½ cup of extra-virgin olive oil.
3 tablespoons of butter.
2 tablespoons of flour.
1 cup of beef broth.
1 cup of Crème Fraiche or heavy cream.
1 tablespoon Worcestershire sauce.
1 teaspoon Dijon mustard.
Combine the meats in a large bowl. Mix the breadcrumbs with the milk and add them to the bowl. Add the onion, parsley, oregano egg, salt and pepper and mix well. Knead for ~ 5 minutes to make a homogeneous mix.
Add 1 tablespoon of butter and the olive oil in a skillet on medium-high heat. Use the meat mixture and make small balls. Fry the meatballs until golden brown.
In a large frying pan add 2 tablespoons of butter on medium heat. Add the flour and mix well. When the flour starts getting yellow (~ 1 minute), add the cream, the beef broth, the Worcestershire sauce and mustard. Stir well and let the sauce thicken, for ~ 10 minutes. Add salt and pepper to taste.
When the sauce is ready, add the meatballs into the pan and cook for a few minutes.
Sprinkle some parsley and enjoy the meatballs with some pasta or rice.
Bon appetit!
Recipe by
SocraticFood
at http://socraticfood.com/swedish-meatballs-in-a-creamy-white-sauce/