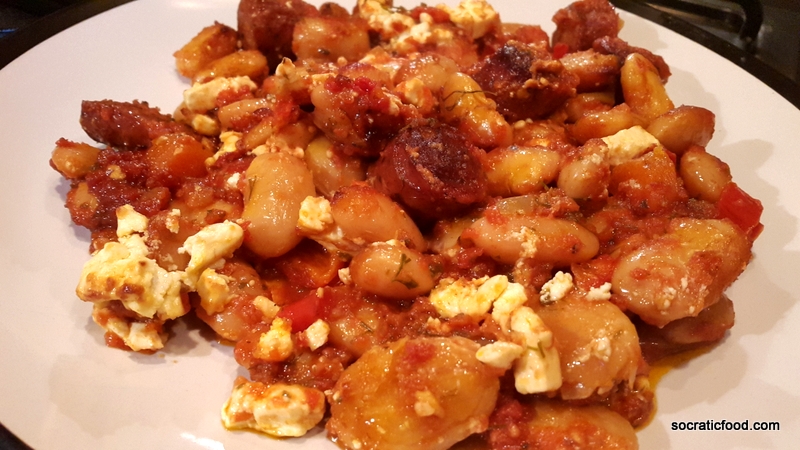 Butter beans in the oven is one of my favourite dishes. The rich, oily tomato sauce and the aroma of dill reminds me of my grandmothers cooking and the gastronomical pleasures mother Earth can offer.
I slightly modified this classic Greek recipe and added some nice sausages to take the dish to another dimension. Just before you take it from the oven, spread some Feta cheese, wait for another 15 minutes, get some nice bread and…attack!
Ingredients (serves 6 people)
500 gr (18 oz) butter beans.

3-4 large juicy and sweet tomatoes.

1 red pepper chopped.

400 gr (14 oz) sausages of your choice.

1 ½ onion coarsely chopped.

2-3 garlic cloves chopped.

1 cup of Passata (or 3 tablespoons of tomato paste).

A small bunch of flat-leaf parsley.

A generous bunch of dill chopped.

200 ml (6 fl oz) extra virgin olive oil.

150 gr (5 oz) Feta cheese crumpled.

Salt and ground pepper.
Boil the beans in plenty of water for ~ 10 minutes. Drain, change the water and boil them for ~ 1 hour until the beans start becoming soft.
In a frying pan add 2 tablespoons of oil and cook the onion and red pepper in medium heat until they soften.
Add the tomatoes, garlic and parsley in a blender and make a smooth tomato paste.
Add the boiled beans in a large tray together with the onions, peppers, fresh tomato paste, Passata (or concentrated tomato paste) and sausages cut in thick pieces. Stir well until all the ingredients mix nicely. Add the dill, season with salt and pepper and add the rest of the oil and some water so it covers the whole tray.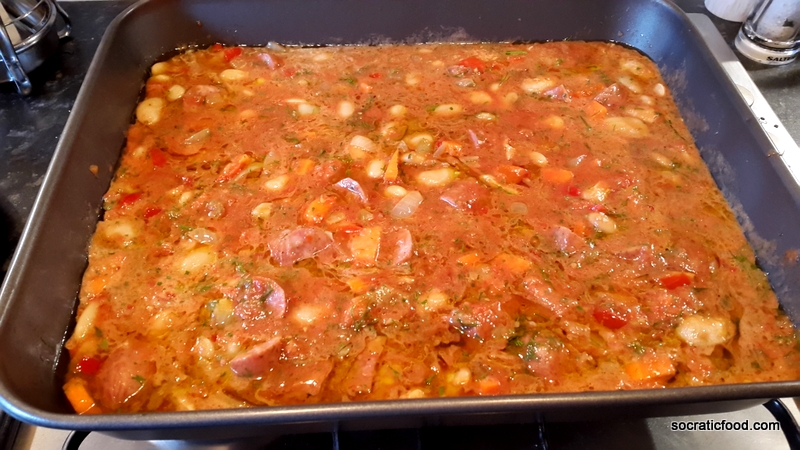 Cover with kitchen foil and cook in a preheated oven at 180 Celsius (360 F) for about 1 hour. If the beans are not melting in your mouth, add some water and let it cook a little more (always covered).
When ready, remove the kitchen foil and spread the Feta cheese. You may use some breadcrumbs if you like for a crunchier result. Put it back in the oven uncovered for 15 minutes.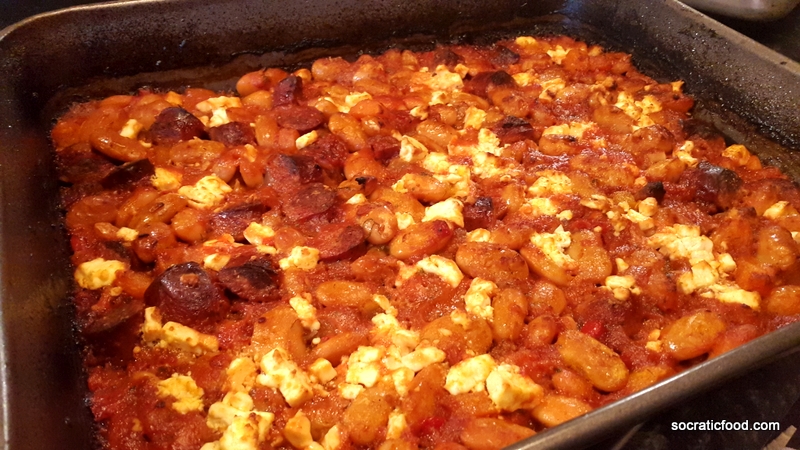 Serve hot with lots of nice bread.
Bon appetit!
(Visited 971 times, 1 visits today)